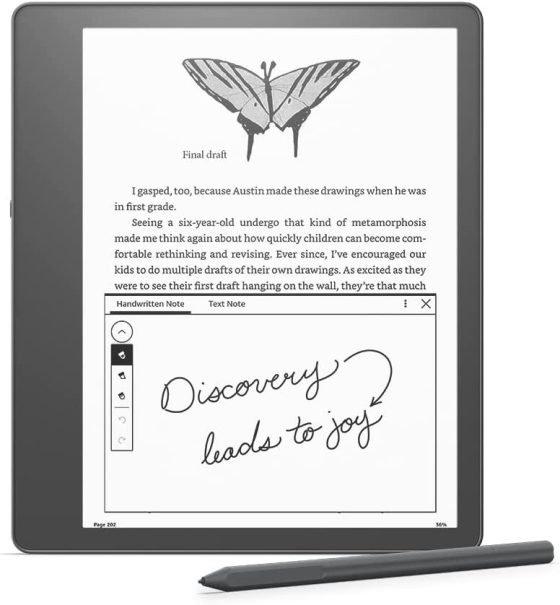 Review Date: December 2022 – Review unit purchased from Amazon
Overview
The Kindle Scribe was released on November 30th, 2022. It's the first large-screen Kindle that Amazon has released since 2010 with the Kindle DX, and it's the first note-oriented Kindle that comes with a stylus for writing on the screen.
The Kindle Scribe is also the first 10″ E Ink device to feature a 300 ppi screen. Similar devices top out at 227 ppi so it's a pretty big improvement, and now all current Kindles have 300 ppi screens.
The Kindle Scribe is available in 3 storage options with the choice of a basic pen or a premium pen, but the option for the basic pen is only offered on the cheapest 16GB version that sells for $339. One nice thing about the Scribe is they got rid of the ad-supported versions altogether.
Quick Review
Pros
The 10.2-inch 300 ppi E Ink screen looks great and so does the frontlight—it's surprisingly well lit for such a large screen.
Good writing-feel with the stylus, and the response is fast and smooth, and the stylus attaches magnetically to the side of the Kindle.
Nice design and solid build quality.
Cons
The notebook app is pretty basic compared to other eNotes, and there aren't any advanced features like handwriting conversion or note search.
You can only write on PDFs that are sent using send-to-Kindle, not sideloaded via USB, and sent PDFs have less features than sideloaded PDFs.
It's a little on the heavy side for an ereader, and the back is rather slick so you've got to be careful not to let it slip.
Verdict
The Kindle Scribe is late to the eNote game, and it lacks a lot of note-related features that similar devices offer, but it's currently the only 10″ E Ink device with a 300 ppi screen, and with the Kindle integration it offers a better ebook reading experience than most other eNote devices, especially with the better screen.
The note features are basic but they are functional, and the writing experience is pretty good, but at the end of the day the Kindle Scribe is more of an ereader than it is a note taker. Hopefully Amazon will continue to develop the note-taking aspects, but Kindle's aren't exactly known for having great software development so don't expect any major improvements any time soon.
Kindle Scribe Video Review
The Design
The design of the Kindle Scribe is pretty similar to most other current 10″ eNotes, with a larger handle on one side and a flush front screen. The sides and back of the Scribe form a metal shell, which gives it a premium look and feel and it helps make the device feel solid and sturdy in your hands.
My main complaint is there's a pretty large gap between the edge of the display and the outer frame. You definitely wouldn't want to splash any water on the screen.
On each corner of the back there's small rubber feet to keep the device from sliding on a table, which is nice, but between the metal back and flush front screen it feels like the Scribe could slide out of your hand if you're not careful, and the fact that it's so thin doesn't help matters any.
At 433 grams (actually my scale says 426 grams), the Kindle Scribe is a little on the heavy side, especially for an ereader, but to me it's not bad enough to be a problem. It's still 40 grams lighter than my iPad. The Sony DPT-CP1 had a 10.3″ screen and it only weighed 234 grams so there's a lot of room for improvement there, but it used a lighter plastic-based E Ink screen—the flexible screens are more expensive so nobody is using them anymore unfortunately.
Hardware
Like the Kindle Paperwhite 5 and the new Kindle for 2022, the Kindle Scribe has a USB-C port, it supports dual band WiFi, and it supports Bluetooth, but unfortunately that doesn't include Bluetooth keyboards.
It's not waterproof like the Kindle Oasis and Kindle Paperwhite, but it does have an adjustable warm frontlight and an auto-brightness sensor to automatically adjust the frontlight level (which can be turned off if you don't like it).
The Kindle Scribe also has a rotation sensor to automatically rotate the screen, and of course it has an EMR touchscreen and comes with a stylus for writing on the screen. Other Wacom styluses work as well.
The Screen
The Kindle Scribe is the first E Ink device over 8″ to have a 300 ppi screen. It's definitely a big step up from the 227 ppi screens on other 10″ eNotes, and the frontlight is really nice and evenly-lit as well, with a nice neutral tone for the cool light setting, and it seems to help make the text stand out more than some other frontlights.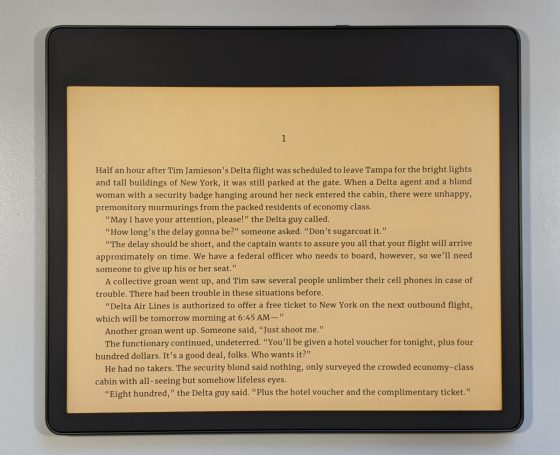 I really like the larger screen on the Kindle Scribe and I think it looks good while reading, but the Kindle Voyage's screen still looks better so it's not setting a new standard or anything.
There's a bit of added texture to the front of the screen on the Scribe, which is pretty common for eNotes to improve the writing feel, and it does help with that, but it also takes away just a bit of clarity.
On the plus side, the writing experience feels pretty good on the Scribe. There's very little latency with the EMR touchscreen, and it tracks very well. The pen also feels nice, much better than the cheap plastic junk that Onyx used to ship with their devices. I also like how the pen attaches magnetically to the side of the Scribe when not in use, and the magnet is pretty strong.
Software Changes
For the most part, the Kindle Scribe runs the same software as other Kindles. But there are some differences. On the homepage and library view there's an extra tab for "Notebooks", and another tab for "More", which includes access to the settings menu, reading lists, Goodreads, and a web browser.
When it comes to reading ebooks, all the features are pretty much the same as other Kindles. The main difference is you can add freehand "sticky notes" to ebooks. You can't write directly on ebooks but you can anchor written notes to highlights and selected words within ebooks, and you can easily export those notes using email.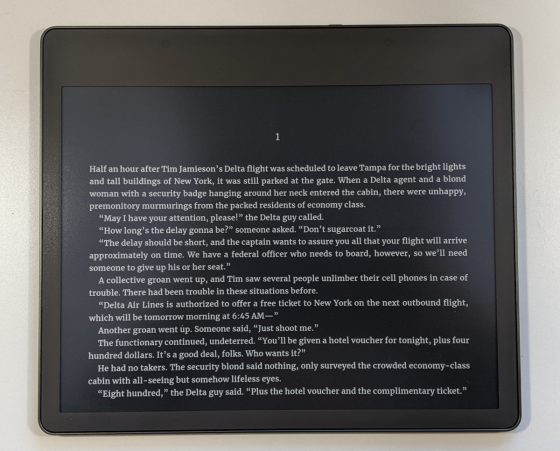 One annoying thing is there's still the same three line spacing and margin settings that Kindles have had forever. The Kindle Scribe could definitely benefit from more settings with the larger screen, and the same goes for more font sizes and a two column mode in landscape view.
You can write directly on PDFs, but there are some weird things about PDFs that requires a lengthy explanation. See this separate Kindle Scribe PDF review for more details.
Notebooks
The notebook app on the Kindle Scribe is really basic. You have the option to organize your notes into folders, but you cannot create folders within folders, and you can't jump pages within notebooks so you have to scroll manually page-by-page.
Inside the notebook app, there are 18 different templates to choose from, including several different types of lined paper, there's graph paper, blank paper, checklists, and more. Unfortunately there's no way to add additional templates, but you can basically achieve the same thing by sending PDF templates to the Scribe and using them instead.
When writing there are 5 different line thicknesses to choose from, along with 5 sizes for a highlighter pen and 5 eraser sizes. You can also erase by using the back of the premium pen, and there are settings to erase by selection and erase the full page. There are undo and redo buttons as well. But that's pretty much it.
You can export your notebooks by email, and you can also access all of your notebooks through the Kindle apps for iOS and Android using sync, but you cannot edit them or do things like rename them using the apps.
Update: Amazon updated the software on the Kindle Scribe to add more pen types with support for pressure sensitivity, and they added support for sub-folders to help organize notes, and they also added a page jump option. See here for a video review.
More Kindle Scribe Reviews
Kindle Scribe Specs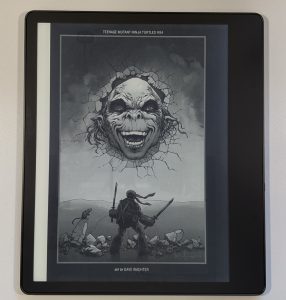 10.2-inch E Ink display with 300 ppi.
Adjustable warm frontlight with 35 LEDs and auto brightness sensor.
EMR touchscreen; stylus included with 5 replacement tips.
2-point capacitive touchscreen.
16GB/32GB/64GB storage.
USB-C port.
Rotation sensor.
Supports 2.4 GHz and 5.0 GHz WiFi.
Bluetooth for streaming audiobooks and VoiceView.
Battery life: Up to 12 weeks for reading, 3 weeks for writing.
Supported formats: Kindle Format 8 (AZW3), AZW, KFX, TXT, PDF, MOBI, PRC; and EPUB, HTML, DOC, DOCX, JPEG, GIF, PNG, BMP through conversion; Audible AAX audio format.
Weight: 15.3 oz, 433 grams.
Dimensions: 7.7″ x 9.0″ x .22″ (196 x 230 x 5.8mm).
Price: $339 at Amazon.