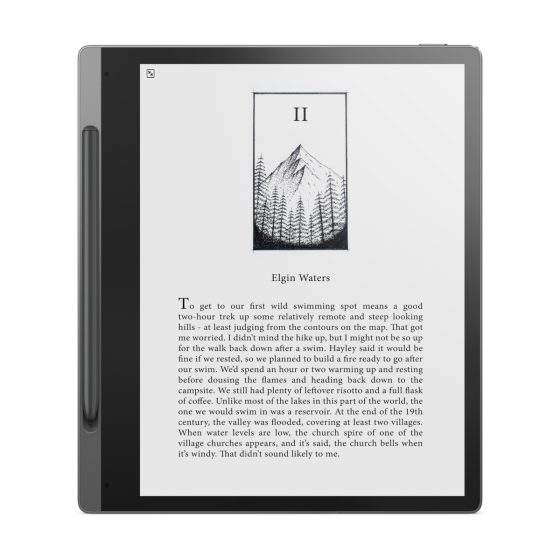 Lenovo has announced the upcoming release of a new 10.3″ E Ink device called the Lenovo Smart Paper that doubles as an eNotebook and an ereader.
It looks like it has some good things going for it in the notebook department, with a lot more features than the Kindle Scribe, but it still remains to be seen how it fairs as an ereader.
The Lenovo Smart Paper runs Android 11 (apparently it doesn't come with Google Play, though) and it comes pre-loaded with the eBooks.com app. It's good to see Lenovo partner with a legitimate ebook store. It'll be interesting to see how well the app works an E Ink screen, how it's been optimized, and how many features it offers.
Lenovo also says that EPUB, PDF, and Microsoft office files are supported.
On the notebook side, the Lenovo Smart Paper can convert handwritten notes to text, and you can search handwritten notes as well. It supports audio recordings too, which can also be converted to text. There are a bunch of different pen types with the note app, and of course it comes with a stylus, which doesn't require a battery. It has an EMR touchscreen like most eNotes, and it supports 4096 levels of pressure sensitivity, plus tilt.
Unfortunately it doesn't have a 300 ppi screen like the Kindle Scribe (just 227 ppi like other 10″ eNotes), but it does have a dual-colored frontlight with temperature control.
The Lenovo Smart Paper will be available in late 2023, and it's expected to sell for $399.
The product page doesn't appear to be up yet on the Lenovo website but I did a PDF sheet with all the main specs and accessories for the Lenovo Smart Paper tablet.
Lenovo Smart Paper Specs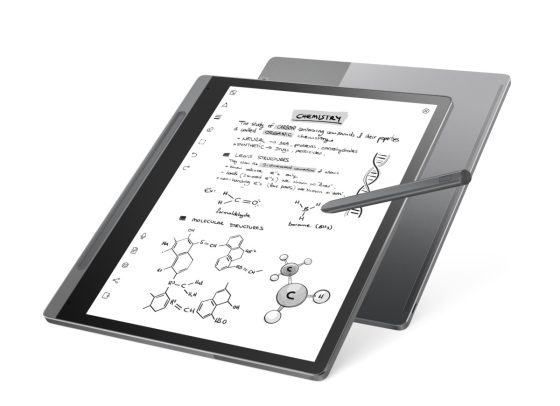 10.3″ E Ink screen with 1872 x 1404 resolution (227 ppi)
Dual color frontlight with brightness sensor
CPU: Rockchip RK3566 quad-core 1.8GHz
Android 11.0
64GB
4GB RAM
Dual microphones
Dual band WiFi
Bluetooth 5.2
Rotation sensor
Hall sensor
USB-C
3550 mAh battery
Dimensions: 195 x 226 x 5.5mm
Weight: 408 grams
Lenovo Smart Paper Video