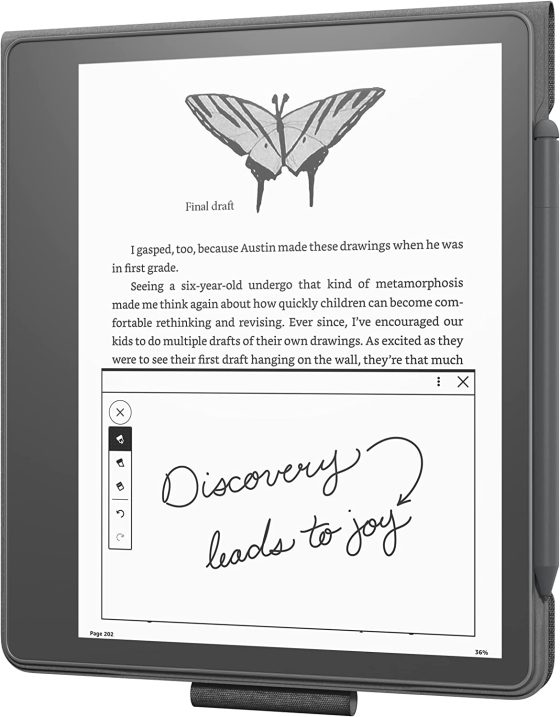 Amazon has the Kindle Scribe on sale for the first time since it was released on November 30th, 2022.
All versions of the Kindle Scribe are marked down by $45-$60, and Amazon's official Kindle Scribe covers are on sale for $10-$25 off as well.
The Kindle Scribe has some limitations when it comes to the notetaking aspects, but the reading experience is like any other Kindle, except with a larger 10.2-inch screen.
I think there were a lot of unrealistic expectations about the notetaking capabilities with the Kindle Scribe when it was first released so there are lot of negative reviews, but I actually think the Kindle Scribe is a great device, and it's an absolute bargain at these prices, especially compared to the competition (plus there's the fact that it doesn't have ads like other Kindles).
When it comes to reading ebooks the Kindle Scribe is the best 10-inch E Ink ereader on the market thanks to the 300 ppi screen and a really good frontlight. It's lacking in the notetaking department compared to similar devices, and the PDF support still needs some work, but it's a much nicer device than some people give it credit for. See my Kindle Scribe review for a list of pros and cons and to watch a video review of it in action.
Amazon still shows the "Save $40" when buying 2 Kindle Scribes offer as well so the prices are even lower when buying two, and of course there's always the option to trade-in an older Kindle for an additional 20% off.
Kindle Scribe Sales List
Kindle Scribe 16GB with Basic Pen – $294.99 ($45 off)
Kindle Scribe 16GB with Premium Pen – $319.99 ($50 off)
Kindle Scribe 32GB with Premium Pen – $334.99 ($55 off)
Kindle Scribe 64GB with Premium Pen – $359.99 ($60 off)
Kindle Scribe Covers on Sale
Kindle Scribe Fabric Folio Cover – $49.99 ($10 off)
Kindle Scribe Leather Folio Cover – $64.99 ($15 off)
Kindle Scribe Premium Leather Folio Cover – $74.99 ($25 off)