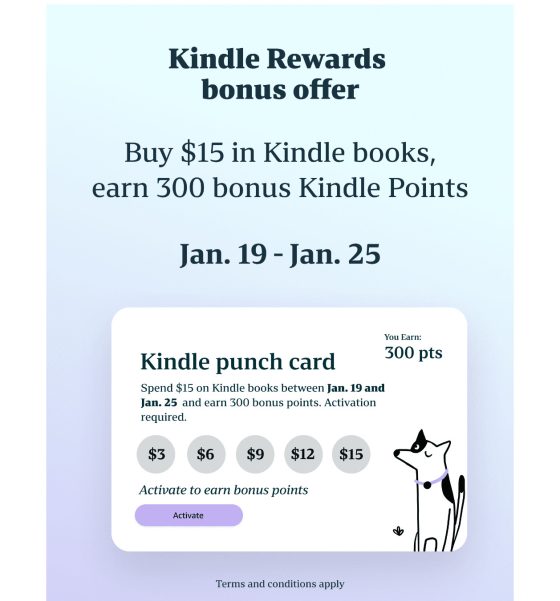 In case you've missed it, Amazon is running another one of their bonus deals with their new Kindle Rewards Beta program where you can basically get a 25% discount when spending $15 on Kindle ebooks.
The deal has to be activated on the Kindle Rewards page at Amazon for the offer to take effect.
After activating the bonus offer, you can earn an extra 300 bonus points after spending $15 on Kindle ebooks. You'll also earn 75 points for spending $15 so you can earn a total of 375 points with this offer.
The way the Rewards program works is you can get a $3 Kindle ebook credit for every 300 points earned.
This Rewards bonus offer runs from January 19th through January 25th. Activating the offer is required before you can earn bonus points for buying Kindle ebooks, and the offer is only available for accounts that are eligible for the Kindle Rewards Beta program.
There's also a similar offer on Amazon UK where you can earn £5 in credits after spending £15 on Kindle ebooks. Apparently the UK deal in only available for Amazon Prime members, and the offer runs through the end of January.
Make sure to check the terms and conditions page for the full details on each offer and a list frequently asked questions.