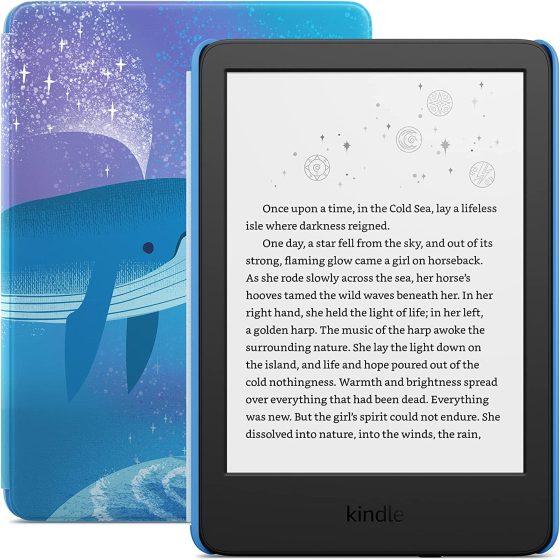 Here's a list of 10 free highly-rated Kindle ebooks for the weekend.
Amazon still has the 2022 Kids Kindle and Kindle Paperwhite Kids models on sale too, so don't buy a regular Kindle at full price.
Please keep in mind the free Kindle books listed below are free as of January 22nd, 2023. Most of these titles are free for a limited time only and will expire in the next few days or hours before going back to the regular list price.
A good place to find more free Kindle books is on the free bestsellers list at Amazon (but for some reason the list only appears on the desktop version of the site, not the mobile version).
You don't need to own a Kindle ebook reader or a Fire tablet to read these free ebooks; you can use free Kindle reading apps for iPad, iPhone, and Android devices, or use a computer or web browser.
Subscribe to The eBook Reader Blog to keep updated on future free ebooks posts, along with ebook reader news, reviews and how to guides, or you can follow this site on Facebook and Twitter to get updates.
Kindles on Sale
Kids Kindle – $84.99 ($35 off)
Kindle Paperwhite Kids 8GB – $109.99 ($50 off)
Kindle Paperwhite Kids 16GB – $119.99 ($50 off)
Kindle Scribe Premium Leather Folio Cover – $79.99 ($20 off)
More Kindle Deals
Up to 80% off select critically acclaimed Kindle eBooks – 1/22 only
Spend $15 on Kindle eBooks, Earn 300 Bonus Points
Get up to 40% off Kindle Unlimited subscription
Kindle Unlimited Promos – Offers vary by account
Amazon First Reads – Free eBooks for Prime Members
Get 20% off New Kindle with Trade-in
10 Free Kindle eBooks
The Gift by Kate Anslinger
Mystery, 4.5 stars, 321 reviews
One look in a criminal's eyes and she witnesses their crimes. Grace McKenna is not your average police officer. She is haunted by the unsettling images she sees when she locks eyes with a criminal, her vision flooded with clues that force her to solve cases on her own. A sullen boy, a tormented woman, a breathless man, a thousand pieces of shattered green glass. On a missing persons case in a small Massachusetts town, Grace comes face to face with an unlikely criminal. Armed with only a handful of clues, she sets out to unravel a local family's deathly secret…
Merlin the Magical Fluff by Molly Fitz
Mystery, 4.3 stars, 183 reviews
My name is Gracie Springs, and I am not a witch… but I'm pretty sure my cat is. I first started to get suspicious when he jumped just a little too high while chasing after a robin in our front yard. I knew for sure when he opened up his mouth and addressed me by name! The first thing he told me? That he doesn't like the name I gave him—even though "Fluffy" fits him like a warm sweater at Christmas. Now we've compromised on "Merlin the Magical Fluff," which according to him references his long and proud lineage just fine…
Elemental Outcast by Sean Fletcher
Fantasy, 4.4 stars, 188 reviews
All Riley wanted for her seventeenth birthday was a fun night out. But when a knife-wielding psycho attacks her best friend, of course she tries to stop him. Turns out, a knife through the heart isn't all it's cracked up to be. Neither is death. Instead of pearly gates, Riley wakes up alive and ensnared in a witch's curse with twelve paranormals known as the Outcasts—including the inhumanly beautiful, totally-hates-her-guts vampire Jasper. And shifters, faeries, witches, and other creatures that shouldn't exist? They're real. And Riley just might be the most powerful paranormal amongst them…
Black Heart by Anna-Lou Weatherley
Thriller, 4.3 stars, 1268 reviews
The hotel maid opens the door to the penthouse suite. She smiles at the sweet little teddy bear sitting in the middle of the vast, luxurious bed. Her eyes drift to the nearly empty heart-shaped box of chocolates and then she spots something that sends a shiver down her spine – a blood covered note with the words: 'My beautiful darling, I'm sorry, please forgive me.' They'll say it was a tragic suicide. His wife will break down into uncontrollable sobs when she hears the news of how her darling husband of nearly twenty years died. She'll refuse to believe it…
Ms. Bitch by Tricia O'Malley
Romance, 4.7 stars, 1721 reviews
Finding happiness is the best revenge. From the outside, it seems thirty-six-year-old Tess Campbell has it all. A happy marriage, a successful career as a novelist, and an exciting cross-country move ahead. Tess has always played by the rules and it seems like life is good. When Tess discovers the truth about her marriage, she throws caution to the wind and dives into the life she's secretly always wanted to live ­– which means Tess isn't going to let anybody tell her what to do anymore…
Fomorian Brigade by James David Victor
Science Fiction, 4.3 stars, 569 reviews
He was a genetically engineered super soldier, built to win a war. Once he was no longer needed, he was cast aside to fend for himself . . . or worse. Now, he might be the only thing that can save the human race. A military sci-fi adventure from Amazon All-Star author James David Victor. Carl Sebastian was genetically engineered to be the deadliest fighting machine known to mankind. Once they were no longer needed, his kind were abandoned or sent for "rehabilitation." Forced to fend for himself, he spends his life hiding in the shadows, working for his next fix of the medication that keeps him sane…
Pemberley: Mr. Darcy's Dragon by Maria Grace
Fantasy, 4.4 stars, 949 reviews
It is a truth universally acknowledged that a single man in possession of a good fortune must be in want of a dragon. Fitzwilliam Darcy of Pemberley has the good fortune to be in possession of the first English firedrake egg laid in a century. Or, at least, he was until some miscreant stole it. Mr. Darcy tracks the thief to Hertfordshire. Catching the thief, however, proves to be an entirely different kettle of brimstone, especially when he encounters fellow Dragon Keeper, Miss Elizabeth Bennet of Longbourn…
Last Seen by Joy Kluver
Thriller, 4.4 stars, 898 reviews
When five-year-old Molly Reynolds is snatched from the park in the small village of Otterfield, Detective Bernadette 'Bernie' Noel throws herself into the search, sick with worry for the quiet, sensitive little girl and her distraught mother. Wasting no time, Bernie finds a small green cardigan under a bush in the park. It still has the smiley face sticker Molly won that week at school. It's the first in a chain of clues – and Bernie can't shake the feeling that it was left deliberately, as a message…
Loose Ends by Terri Reid
Paranormal Romance, 4.5 stars, 1956 reviews
Dying is what changed Mary O'Reilly's life. Well, actually, coming back from the dead and having the ability to communicate with ghosts is really what did it. Now, a private investigator in rural Freeport, Illinois, Mary's trying to learn how to incorporate her experience as a Chicago cop and new-found talent into a real job. Her challenge is to solve the mysteries, get real evidence (a ghost's word just doesn't hold up in court), and be sure the folks in town, especially the handsome new police chief, doesn't think she's nuts…
Corvus Ascending by Dale Sale
Science Fiction, 4.3 stars, 90 reviews
Wisecracking star-sailor Gus Johansson's beach bum retirement suddenly goes from boring to blazing when he pulls a 1400-year-old robot and a sentient spaceship from the sea. Soon, Gus and his crew of misfits are in the fight of their lives against an old enemy. The vengeful Captain Harrison "Hazy" Grey is convinced he can finally get his Admiral's flag by capturing that ship; and he doesn't care who he has to kill to do it.