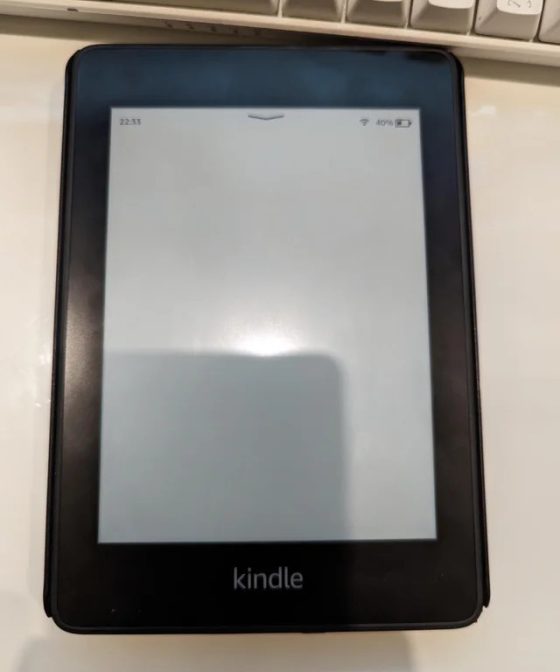 Over at reddit there are a bunch of posts about people's Kindles suddenly displaying a blank screen all except the top menu bar.
Update: An Amazon rep sent an email with steps to resolve the issue (see below).
Unfortunately there doesn't appear to be a fix for the problem yet, but according to reports Amazon's customer service reps say they're working on it.
Some people are trying to reboot their Kindle by holding the power button, and it sounds like that works for some but not others.
I checked a few of my Kindles and none are displaying this issue yet so it's not affecting every Kindle.
Kindles used to be known for having really solid software with minimal bugs, but unfortunately over the past few years things have started to go downhill ever since they started making a lot of unnecessary changes to the user interface to make Kindles more like Kindle apps for tablets and phones.
No one really knows what is causing this new blank screen issue, but some people are keeping their Kindles in airplane mode until the problem gets worked out. I don't know if that will help or not but it's worth a try.
Some people are getting brand new Kindles that are displaying this issue out of the box. Other people are being hit by it for no apparent reason—one minute their Kindle is working and the next minute it's not. One thing I've noticed at reddit, I haven't seen a single report of this happening to older Kindles with the old user interface; it appears to be an issue with the new interface only.
As far as Kindle bugs go, this is probably the worst and most widespread issue that I've seen. Hopefully Amazon's software developers will get the problem worked out soon. It's going to cause a lot of outrage if there isn't a quick fix today.
Is your Kindle suffering from the blank screen issue?
Update: An Amazon rep sent an email with the following statement:
"We are aware some customers are having difficulties accessing content on their Kindle e-reader devices, and our teams are working quickly to resolve the issue. In the meantime, customers can contact Amazon Customer Support or take the following steps to fix the issue."
Go to Manage Your Content and Devices and log in to your account.
Click Devices.
Select the impacted device and click Deregister.
Restart the device by holding down the power button for 40 seconds continuously.
When powering back on your device, you will need to re-register it to your Amazon account, and then you will be able to access your content. Deregistering and re-registering your device will not cause you to lose any content.
Image via reddit