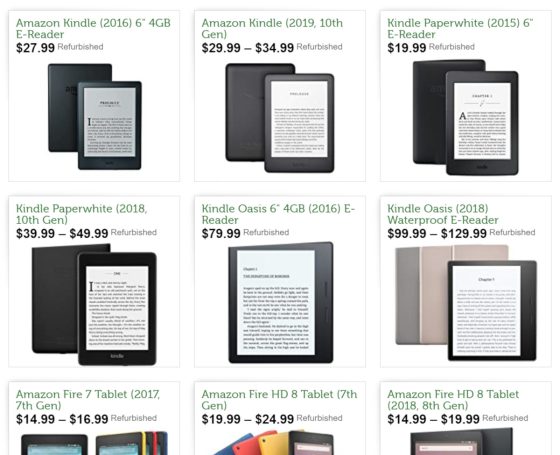 Woot is having another sale on refurbished Kindle ereaders and Fire tablets as their main deal of the day today. Here's the page with the full list of deals.
The sale is ongoing until February 2nd, but they usually sell out before the end date when it comes to these type of refurbished Kindle sales.
The Kindle Paperwhite 3 is available for only $19.99. That's the best deal of the bunch if you just want a cheap Kindle, and it's the best one to get if you want an E Ink Kindle on hand to be able to download Kindle ebooks for DRM removal now that Kindle for PC and Mac no longer work for that when it comes to newly-published ebooks.
Woot also has the Kindle Paperwhite 4 available starting at $39.99 for the 8GB version if you want a cheap waterproof Kindle.
The Kindle Oasis 2 can be had or as little as $99.99. It's exactly the same as the current model except it lacks the warm frontlight settings (it only has the cool-colored frontlight), and they have the first generation Kindle Oasis available for $79.99, but I wouldn't recommend getting it because it doesn't appear to come with the charging cover and those are impossible to find now (that was the stupidest design decision ever, as the Kindle's battery only lasts a few hours without it).
Woot also has the previous generation basic Kindle available for $29.99. They have an earlier basic model available too for $27.99, but it doesn't have a frontlight so you're much better off spending $2 more for the newer model with a frontlight.
Woot has some Fire tablets available for cheap too. The 2018 Fire HD 8 is only $14.99, and the 2017 Fire 7 is also $14.99. The 2017 Fire HD 10 is only $24.99 and the 2019 Fire HD 10 is $49.99.
Here's the full list of Kindle deals:
Kindle Paperwhite 3 – $19.99
Kindle (2016) – $27.99
Kindle (2019) – $29.99 – $34.99
Kindle Paperwhite 4 – $39.99 – $49.99
Kindle Oasis 1 – $79.99
Kindle Oasis 2 – $99.99 – $129.99