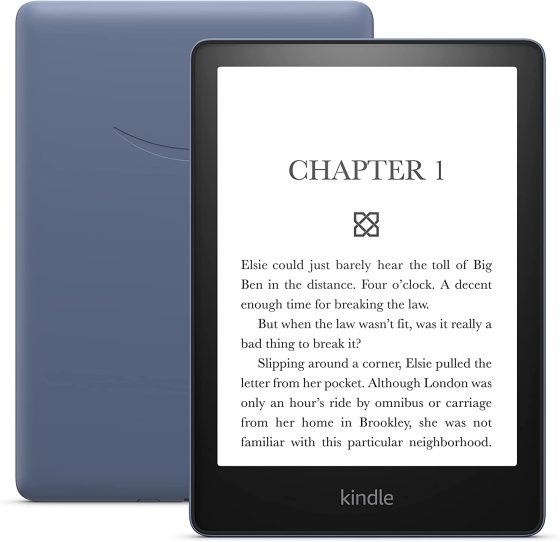 It's time for another list of 10 free highly-rated Kindle ebooks for the weekend.
Amazon still has the Kindle and Kindle Paperwhite on sale as well, along with covers for most Kindles.
Please keep in mind the free Kindle books listed below are free as of February 12th, 2023. Most of these titles are free for a limited time only and will expire in the next few days or hours before going back to the regular list price.
A good place to find more free Kindle books is on the free bestsellers list at Amazon (but for some reason the list only appears on the desktop version of the site, not the mobile version).
You don't need to own a Kindle ebook reader or a Fire tablet to read these free ebooks; you can use free Kindle reading apps for iPad, iPhone, and Android devices, or use a computer or web browser.
Subscribe to The eBook Reader Blog to keep updated on future free ebooks posts, along with ebook reader news, reviews and how to guides, or you can follow this site on Facebook and Twitter to get updates.
Kindles on Sale
Kindle (2022) – $74.99 ($25 off)
Kids Kindle – $84.99 ($35 off)
Kindle Paperwhite 5 – (8GB) $104.99 ($35 off)
Kindle Paperwhite 5 – (16GB) $109.99 ($40 off)
Kindle Paperwhite Kids – (8GB) $109.99 ($50 off)
Kindle Paperwhite Kids – (16GB) $119.99 ($50 off)
Kindle Paperwhite Signature Edition – $139.99 ($50 off)
Kindle Scribe – Get a $25 ebook credit when using code LOVESCRIBE during checkout; get $40 off when buying two
Kindle Covers On Sale
Kindle Paperwhite Covers
Fabric Cover – $25.99 ($9 off)
Leather Cover – $31.99 ($12 off)
Cork Cover – $36.99 ($13 off)
Kindle Scribe Covers
Fabric Cover – $49.99 ($10 off)
Leather Cover – $64.99 ($15 off)
Brush Print Leather Cover – $79.99 ($10 off)
Kindle Oasis Covers
Fabric Cover – $33.99 ($6 off)
Leather Cover – $42.99 ($7 off)
Premium Leather Cover – $56.99 ($8 off)
2019 Kindle Covers
Fabric Cover – $15.99 ($14 off)
More Kindle Deals
Spend $15 on Kindle eBooks, Earn 300 Bonus Points
Get up to 40% off Kindle Unlimited subscription
Kindle Unlimited Promos – Offers vary by account
Amazon First Reads – Free eBooks for Prime Members
Get 20% off New Kindle with Trade-in
10 Free Kindle eBooks
The Girl in the Pink Shoes by Stacy Green
Thriller, 4.4 stars, 186 reviews
My baby girl. This morning she was so excited for school. I bought her new shoes last night. Pink, sparkly shoes. She loved them so much. She wore them for the first time today. And now she is gone… It is every mother's worst nightmare. Eight-year-old Kailey Richardson skips out of the school gates in her brand-new pink shoes and never makes it home. Between the school and the safety of her shiny red front door, someone has taken her. Private Investigator Lucy Kendall sees the fliers of a smiling gap-toothed Kailey and knows she won't be able to sleep until the little girl is found…
Heart of Silk and Shadows by Lisette Marshall
Romantic Fantasy, 4.5 stars, 256 reviews
As a human servant at the Crimson Court, Allie knows better than to anger the fae. Cunning and politics are her tools of survival. But when an unwanted suitor threatens her younger sister, Allie can think of only one way to protect her family… Steal from the fae. Agenor, Lord Protector of the Fae Isles and right hand of the Mother herself, doesn't expect anything to still surprise him after twelve centuries of life. Finding a taunting note from an anonymous thief in his wardrobe is enough to rouse his curiosity, though. Enough to do the unthinkable – write back…
Black Stone Heart by Michael R. Fletcher
Fantasy, 4.3 stars, 694 reviews
A broken man, Khraen awakens alone and lost. His stone heart has been shattered, littered across the world. With each piece, he regains some small shard of the man he once was. He follows the trail, fragment by fragment, remembering his terrible past. There was a woman. There was a sword. There was an end to sorrow. Khraen walks the obsidian path.
Witching For Grace by Deanna Chase
Paranormal Romance, 4.5 stars, 2378 reviews
Welcome to Premonition Pointe, where witches take care of their own. Grace Valentine had the perfect marriage and a great career managing her husband's real estate office. Or so she thought until three months ago when she was served with divorce papers. Thanks to her philandering ex, not only is she out of a husband, she's out of a job, too. At the age of forty-five with the help of her coven, Grace is ready to pick up the pieces and move on…
Dead of Winter by Melissa Pearl, Anna Cruise
Mystery, 4.3 stars, 314 reviews
On the run from her drug-dealing ex, Rosie is forced to return to the one place she swore she'd never go back to—Aspen Falls. But it's a place to lay low until the nightmare blows over. Or is it? When she's pulled over by Officer Blaine Hartford, she comes face to face with her past. Will she have the courage to tell him everything or are her secrets too ugly to share? Blaine has loved Rosie since they went to high school together. Seeing her again sparks all the old feelings, but he had no chance with the popular cheerleader back then. Does he have one now?
Steeped in Murder by Kirsten Weiss
Mystery, 4.4 stars, 1266 reviews
Abigail Beanblossom's dream of owning a tea room in her California beach town is about to come true. She's got the lease, the start-up funds, and the recipes. But Abigail's out of a tearoom and into hot water when the realtor turns out to be a conman… and then turns up dead. But not even death puts an end to the conman's mischief. He rented the same space to a tarot reader, Hyperion Night. Convinced his tarot room is in the cards, Night's not letting go of the building without a fight. Steamed, Abigail realizes the only way to salvage her tea room is to join forces with the tarot reader, even if he isn't her cup of tea…
Waking in Time by Angie Stanton
Time Travel, 4.6 stars, 104 reviews
Abbi arrives at UW Madison still shaken by her grandmother's mysterious, dying request, and wakes to a different world: forty years in the past. That is just the first stop on Abbi's journey backward through time. Will, a charming college freshman from 1920s carrying his own burdens, travels forward through time. When Abbi and Will meet in the middle, love adds another complication to their lives. Communicating across time through a buried time capsule, they try to decode the mystery of their travel, solve her grandmother's mystery, and plead with their champion, a kindly physics professor, to help them find each other again … even though the professor is younger each time Abbi meets him.
Wanderer's Song by P.E. Padilla
Fantasy, 4.3 stars, 244 reviews
Nearly three thousand years ago, the Prophet penned the Song of Prophecy, foretelling a time when darkness would engulf the world and threaten all life. The Malatirsay would come, the Chosen One to save the world of Dizhelim, wielding magic unseen in centuries. To prepare for this future time, the Hero Academy was built, its sole purpose to train the One. But it has lost its focus throughout the ages, not watching vigilantly for the signs of the end…
Silent as the Grave by Cheryl Bradshaw
Thriller, 4.6 stars, 223 reviews
Rebecca Barlow drops her four-year-old son off at parents' house, promising to return by five. Five comes and goes. Then six. Then seven. Worried, Rebecca's parents try calling. She doesn't answer, and her friends haven't heard from her either. It seems no one has. As concern mounts, Rebecca's father drives to the lake house where she's been staying. Her car is spotted in the driveway, and inside, her purse is found on the kitchen table. Rebecca is nowhere in sight.
Take the Shilling by Raymund Eich
Science Fiction, 4.3 stars, 83 reviews
Tomas Neumann sought escape from his backwater planet and overbearing mother, and a mentor to replace his long-dead father. "Taking the shilling"—enlisting in the Confederated Worlds military—promised both. But despite the soldier's skills implanted in his brain, combat against fellow humans, especially ones who should have welcomed him as a liberator, threatened to destroy him, in body and in spirit. Grieving for lost comrades, demoralized by harrowing combat, could Tomas learn what he needed to survive, before facing his war's ultimate challenge?