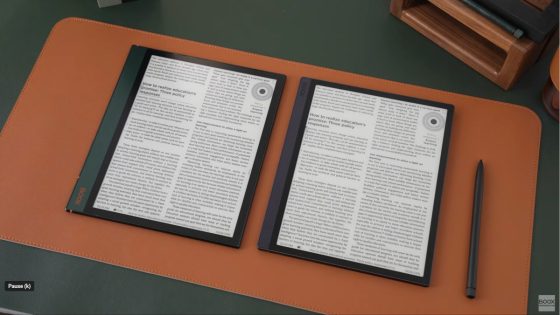 Onyx has uploaded a video that outlines some of the main differences between their new Boox Tab Ultra and the Note Air2 Plus.
Both devices have the same 10.3-inch E Ink screen, and both share a similar overall design, but there are some key differences between the two.
The video is a little sales pitchy at times, but I like how they compare the refresh modes side-by-side to highlight one of the main advantages with the Tab Ultra. Thanks to its dedicated GPU, scrolling is very smooth and the screen refreshes very cleanly.
The refresh modes on the Note Air2 are fine for most ereading and notetaking purposes, but the faster refreshing on the Tab Ultra is better suited for stuff like web browsing, heavy app usage, and typing with a keyboard.
The Tab Ultra also has more storage space (128GB vs 64GB on the Note Air2 Plus) and a memory card slot for expansion. Plus there's an added 16MP rear camera for scanning documents and taking photos, which is something you rarely see on an E Ink device.
Another advantage for the Tab Ultra is a clearer screen with better touch sensitivity. Even though both devices have the same E Ink display, they have different front layers that affect the clarity of the screen.
However, the Note Air2 offers a better handwriting experience with a more textured feel to the screen because of an added film with more writing resistance.
The battery is much larger on the Tab Ultra (6300mAh vs 3700mAh on the Note Air2 Plus). But it uses more power because of the faster refresh modes and added GPU. The Tab Ultra is also heavier by 35 grams because of the larger battery.
There's also a big difference in price between the two models. The Tab Ultra sells for $599, and that's without the fancy keyboard cover, which costs an additional $110. The Note Air2 Plus, on the other hand, sells for $479, and sometimes you can still find the previous Note Air2 with a smaller 3000mAh battery for $449.
Tab Ultra vs. Note Air2 Video