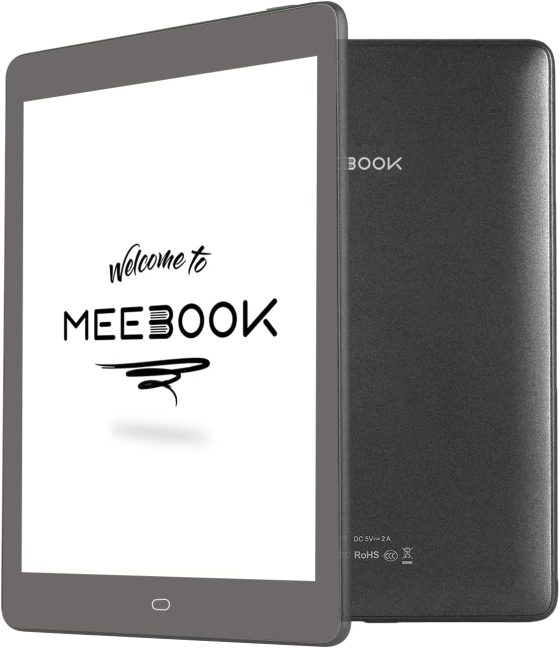 There seems to be some misconceptions about ereaders that run Android, including devices from Onyx and Meebook, among others, so I decided to put together a list of pros and cons.
Some people think that Android ereaders are superior to other ereaders since they can install reading apps from multiple stores so you can have Kindle ebooks, Nook books, Kobo books, Google books and more on a single device. That's definitely a plus if you buy ebooks from various vendors, but there are some downsides as well.
First off, Android wasn't designed to work with E Ink screens so it's kind of a hack to begin with, and the quality of an Android-based ereaders is largely going to depend on how much work the software developers put in to make Android run on an E Ink device with limited resources and a screen technology that doesn't support color and has a much lower refresh rate than typical LCD screens.
Additionally, the Android version doesn't make nearly as much of a difference as people think. Onyx, for example, has their own customized interface, and there's often little to no distinguishable difference between recent Android versions. They mostly just use newer Android versions as a marketing tactic to get people to buy a new model that's 95% functionally identical to the previous version.
The biggest advantage with Android ereaders is their versatility. Being able to install Android apps is a big advantage over something like a Kindle or a Kobo, but not all Android ereaders are open to installing apps without some form of hacking first, like Nooks, for example.
While it's an advantage to be able to install Android apps, you have to keep in mind that they weren't designed to work with monochrome E Ink screens, so they often don't display properly and things like scrolling and refreshing can be an issue at times because there is more lag.
Dedicated ereaders tend to offer a more refined reading experience, with smoother page turns and transitions and more reading-specific features, like being able to use custom fonts.
There are some apps that support using custom fonts, like KOReader, but unlike Kindles and Kobos, it doesn't support reading purchased ebooks without removing the DRM first so it kind of depends on how much work you're willing to put in to read a book.
With Android ereaders there are always workarounds and hacks for a more personalized reading experience, so they're better suited for people that like tweaking with things, whereas dedicated ereaders are more simple to use and setup.
Pros and Cons of Android eReaders
Pros
Being able to install Android apps.
More versatility with a multitude of reading apps to chose from.
Better suited for productivity purposes for things like typing and web browsing.
Not locked into a single store/ecosystem.
More customization options and user configurable settings.
Ability to use the device how you want instead of being forced to use it a certain way (Amazon's way), so you can do things like use Bluetooth devices to turn pages, listen to music, or type notes (even though Kindles support Bluetooth, they support none of those things).
Cons
Most Android apps aren't designed for E Ink screens.
Android ereaders aren't officially supported by Google so installing the Google Play Store requires some form of hack or workaround.
Usually less font choices, layout settings, and boldness options with Android reading apps compared to dedicated ereaders like Kindles and Kobos.
More ghosting. Android ereaders tend to be more prone to showing afterimage effects from the screen not fully refreshing, but with Onyx's devices you have more refresh options to choose from to help minimize ghosting and make refreshing smoother.
Overall battery life tends to be worse with the more advanced operating system.
Requires more research and setup time to learn how things works.