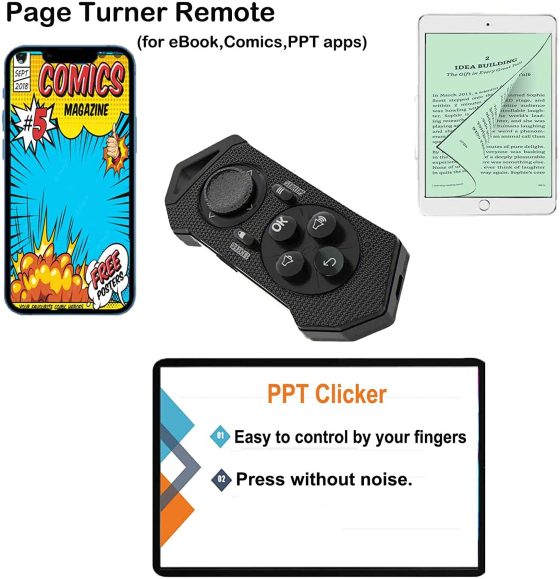 Pretty much all dedicated ereaders have Bluetooth built-in these days, but most of them don't support connecting remote control page turners using Bluetooth.
Some devices, like Onyx's Android ereaders, have supported Bluetooth page turners for a long time now, but Kindles, Kobos, Nooks and other ereaders still don't offer that feature.
They all have Bluetooth but it's only for connecting headphones and speakers to listen to audiobooks. If you want to connect something else like a keyboard or Bluetooth clicker you'll have to try to find a complicated hack to get things to kind of work (maybe).
I posted about this remote control page turner for Kindles and other ereaders back in 2021, and it seems to be pretty popular. It has nearly 2500 reviews at Amazon, with an overall 4.4-star rating.
However, it's not a true Bluetooth page turner because there's a clip that has to be touching the screen, and it only pages in one direction, not both. The clicker isn't actually connected to the device; it's connected to the clip contraption (that's why it has to be touching the screen). It's one way to accomplish remote page turning on Kindles and Kobos but the clip is pretty big and clunky.
There's clearly a market for those type of remote control page turners for ereaders, but there aren't very many options outside of Onyx's Boox devices.
I get that a remote control isn't going to be necessary for a lot of people, but some people find them convenient for certain use cases. I could see how they'd be useful for reading in bed or having an ereader propped up on a table, especially the larger 10-inch models.
Would you like to see ereader companies like Amazon and Kobo add support for Bluetooth page turners? Or is that something you'd never use?