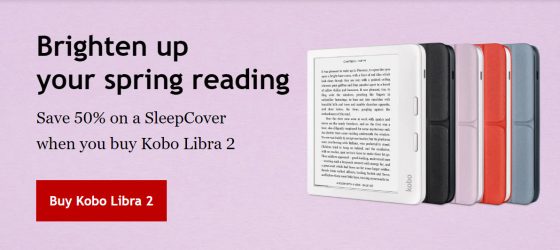 Kobo has a new promotion on their website where you can get 50% off a Kobo SleepCover when purchasing a Kobo Libra 2.
It basically amounts to getting $20 off so it's not a great deal, but $20 off is as much as Kobo ever takes off the Kobo Libra 2 anyway so it's the same kind of thing but with a cover included in the deal.
Kobo's SleepCover for the Libra 2 is available in four colors: poppy red, slate blue, lavender, and black. It sells for $39.99 normally, but with this deal you can get it for $19.99.
The Kobo Libra 2 has a 7-inch E Ink Carta 1200 screen with 300 ppi and it has a frontlight with adjustable color temperature. There's 32GB of storage space built-in, it has a USB-C port, and the device is waterproof.
Check my Kobo Libra 2 review for more details and to watch a video review to see it in action.
The offer only seems to be available from Kobo's website, not any of their resellers, but Kobo's shipping is usually pretty quick.