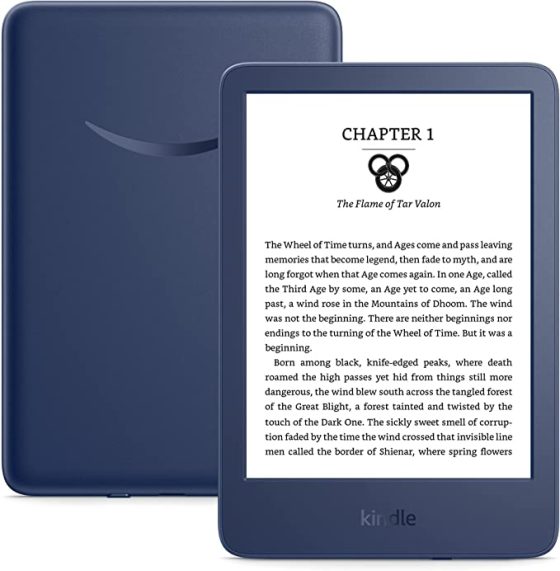 Here's another random list of 10 free highly-rated Kindle ebooks for the weekend.
Amazon also has another rewards offer available for the next few days where you can earn 200 bonus points after spending $10 on Kindle ebooks. It's basically like getting 20% back, but you have to activate the offer from the Kindle Rewards Beta page at Amazon for the offer to take effect.
Please keep in mind the free Kindle books listed below are free as of March 11th, 2023. Most of these titles are free for a limited time only and will expire in the next few days or hours before going back to the regular list price.
A good place to find more free Kindle books is on the free bestsellers list at Amazon (but for some reason the list only appears on the desktop version of the site, not the mobile version).
You don't need to own a Kindle ebook reader or a Fire tablet to read these free ebooks; you can use free Kindle reading apps for iPad, iPhone, and Android devices, or use a computer or web browser.
Subscribe to The eBook Reader Blog to keep updated on future free ebooks posts, along with ebook reader news, reviews and how to guides, or you can follow this site on Facebook and Twitter to get updates.
Kindles Deals
Spend $10 on Kindle eBooks, Earn 200 points – Offer has to be activated first, ends March 15th
Get up to 40% off Kindle Unlimited subscription
Kindle Unlimited Promos – Offers vary by account
Amazon First Reads – Free eBooks for Prime Members
Get 20% off New Kindle with Trade-in
10 Free Kindle eBooks
Her Deadly Homecoming by Tony Urban, Drew Strickland
Thriller, 4.4 stars, 770 reviews
Seventeen years ago Carolina McKay escaped death at the hands of a psychopath. Now she's come home and so has the killer. After she's shot in the line of duty, Detective Carolina McKay returns to her hometown hoping to rebuild her life and conquer her demons. But before she can even unpack, a college student is found dead in a ditch. The crime scene looks familiar. Too familiar. Has the madman who terrorized Carolina's childhood, reemerged? Or is a new killer copying those old crimes?
Brain Death by John Benedict
Thriller, 4.7 stars, 94 reviews
Anesthesiologist, Luke Daulton, returns after his life and death struggle with nurse Brandt Stevens. He is now moonlighting in the ICU at a Pennsylvania VA hospital—the same hospital where the vice president of the United States is undergoing emergency open-heart surgery. The VP suffers some sudden unexpected post-op complications and Luke assists in his resuscitation. The next thing he knows, Luke wakes up paralyzed in the same ICU, only to learn he has been declared brain dead and is facing a lethal organ harvest procedure in less than 24 hours. Luke must quickly unravel the mystery of how his doctors inexplicably botched his diagnosis…
Bitter Past by Caroline Fardig
Mystery, 4.4 stars, 322 reviews
Ellie Matthews' life changed the day she discovered that the brutally dismembered Jane Doe she'd been examining for a month was her estranged mother. In one instant her career as a celebrated criminalist was over and her new life as a quiet academic began. But her tentative peace is shattered when the body of a female student is discovered on college property and a close colleague is named the key suspect. Ellie watches in disbelief as evidence begins to pile up against her good-natured friend and whispers of salacious affairs and toxic secrets spread…
Lakehouse Promises by Jodi Allen Brice
Romance, 4.7 stars, 136 reviews
Carolina Johnson had the life everyone wanted. A solid marriage of twenty years. A gorgeous house in the most desirable neighborhood. Friends at the country club. Yet, somehow, she always felt the other shoe would drop. And drop it did! When she discovered her husband's affair with a girl half his age. Even more devastating, she's pregnant. Now divorced, she has to start over in a lake house with too many issues to list, a neighbor who doesn't like her and zero friends. To make matters worse, her outrageously rude former mother-in-law shows up and expects to spend a few days…
The Killing Woods by Linda Berry
Mystery, 4.5 stars, 537 reviews
After years as a homicide investigator in a big city, Detective Sidney Becker accepts the position of police chief in her hometown—a peaceful mountain community in Oregon. Life is good. Beautiful scenery. Low crime. Close to family. Then a woman is found brutally murdered in the woods. The staging of the body resembles a victim found in the same area years earlier. The case went cold. Now the killer has come out of hiding. The only clue found at the crime scene is an origami butterfly with a handwritten verse inside. Sidney finds she is pitted against a killer more cunning than any she has faced before. She must decode his cryptic message and lure him into the open—before he strikes again.
Shield-Maiden: Under the Howling Moon by Melanie Karsak
Fantasy, 4.6 stars, 1426 reviews
In my dreams, Odin whispers to me. He tells me I'm destined to wield a legendary sword. He tells me my road will bring me to Valhalla. But when I wake, I'm only Hervor. Fatherless. Unloved. Unwanted. Jarl Bjartmar, my grandfather, calls me cursed. My mother, her memories stolen by the gods, has forgotten me. Everyone tells me I should have been left to the wolves, but no one will tell me why. None but Eydis, a thrall with völva magic, believes I'm meant for a greater destiny. Yet who can believe a devotee of Loki?
The Deadlands by Minerva Hart
Science Fiction, 4.4 stars, 40 reviews
Thirty years ago, a plague called the Splicer's Sickness spread across the world, shaping all it effects into rabid, half-animal beasts intent on contaminating every uninfected person they can find. The Old World fell, but a new one took its place. Not everyone wants to accept the new order. Some are desperate to reestablish the status quo. Desperate enough to kidnap innocent people and subject them to inhuman experiments. Enter Nessa Shirokuma and Karl Gearhart, who will stop at nothing to save Nessa's sister from such a monstrous fate. But the road is a long and perilous one, and only by relying on each other will they survive.
Bloombay Beginnings by Lilly Beckett
Romance, 4.3 stars, 4241 reviews
Sisters Emily, Donna, and Olivia Abernathy miss each other dearly. Residing in different cities, they only see each other a few times a year. But when Emily, the eldest sister, is forced to move to Bloombay, Donna and Olivia immediately visit her to make sure she's okay. They find themselves at crossroads in their own lives too, and the island charms them in unexpected ways. Emily Abernathy has dedicated the past twenty years to raising her children. When her husband leaves her for a younger woman, she's forced to move out of their house…
Mona Lisa's Secret by Phil Philips
Thriller, 4.3 stars, 1845 reviews
Joey is the great-grandson of Vincenzo Peruggia, the man who stole the original Mona Lisa in 1911. Along with his girlfriend, Marie, an art connoisseur, he stumbles across his father's secret room, and finds himself staring at what he thinks is a replica of da Vinci's most famous masterpiece. The Louvre has kept this secret for over one hundred years, waiting for the original to come to light, and now they want it back at any cost. With Marie held hostage and the Louvre curator and his men hot on his trail, Joey is left to run for his life in an unfamiliar city, with the priceless Mona Lisa his only bargaining chip…
Benighted by J. B. Priestley
Thriller, 4.3 stars, 177 reviews
A powerful storm rages through the Welsh mountains, driving three travelers off the road. Philip Waverton, his wife, Margaret, and their friend Roger Penderel are desperate to get out of the torrential downpour. Their only option is a mysterious old mansion, home to the bizarre Femm family and their brutish butler, Morgan. Although the Femms have plenty rooms in their home, they are hesitant to allow guests to stay in them. Instead, Penderel and the Wavertons must settle in for the night by the ground-floor fireplace and hope the storm will pass by morning. But as the hours go by, their situation only gets worse. The storm intensifies, and the dark house begins revealing its secrets—like what lies behind the two locked doors on the top floor. Now the travelers can only pray they survive until morning…