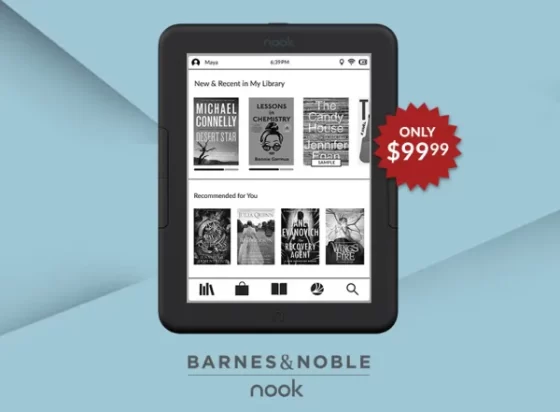 If you're looking to purchase a new ereader for cheap, Barnes and Noble currently has the 6-inch Nook Glowlight 4e on sale for $99 with free shipping.
It's available online from B&N's website and at Barnes and Noble retail stores, and it's also available for $99 from Amazon through BlueProton (the funny thing is they're also Kobo's official retail partner in the US).
The Nook Glowlight 4e normally sells for $119 so it's $20 off during this sale. It's B&N's lower tier model behind the Glowlight 4, which sells for $149.
The Nook Glowlight 4e is the more basic trimmed-down model. It has a frontlight but not with adjustable color temperature, and the screen resolution is 212 ppi instead of the usual 300 ppi. It also doesn't have as much storage space as the other Nook model, but with 8GB it still has plenty of room to hold thousands of books.
The Glowlight 4e is the most recent Nook that B&N has released. It first came out in December of 2021. It's one of a few ebook readers available that still has physical page-turn buttons, with two on each side of the screen (they're hard to see in the pictures).
It has a USB-C port for charging and sideloading files, and it also has WiFi, of course, to shop from B&N's ebook store. Nooks support ebooks in EPUB format, including ebooks with Adobe DRM, and they support PDF files as well.
Nooks aren't as popular as they once were because of all the questionable things that Barnes and Noble has done over the years, but some people really like Nook hardware with the page buttons and larger bezels that make them easier to hold. It's also easy to remove DRM from Nook books now so that's a plus too, especially as Amazon continues to make it more difficult with each passing day.