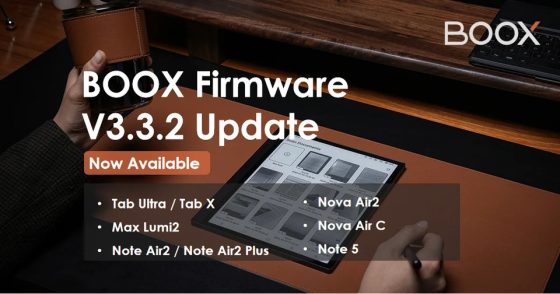 Onyx has released a new software update for their current lineup of Boox ereaders and eNotes, and supposedly they're going to be releasing the update for some of their older models as well, although they don't specify exactly which models.
The new firmware version is V3.3.2 and it adds a number of new features.
As noted in the picture above, the software is currently available for the following Boox models: the Tab Ultra and Tab X, the Max Lumi 2, the Note Air 2 and Note Air 2 Plus, the Nova Air 2 and Nova Air C, and the Note 5.
Apparently Onyx releases firmware updates in batches so it might not be available in all regions. They say to try again the next day if an update isn't detected on your device.
Earlier in the year, Onyx announced that they would no longer post software updates on the help section of their website so to get updates you have to use the update option directly on Boox devices.
Onyx has a post on their website that outlines some of the new features with the 3.3.2 update.
One of the new features is the ability to integrate 3rd-party cloud storage on Boox devices. Currently Dropbox, Google Drive, OneDrive, Baidu Cloud, and NutStore are supported, along with other cloud storage platforms that use the WebDAV protocol.
Onyx also added a new type of text note that basically lets you use your Boox device as a word processor.
They've added more link options for handwritten notes as well, and you can enable work profiles now if you want to keep business and personal data separate.
Boox devices with page buttons now have more functions available too and they can be customized to work with third-party apps.
Here's a post at reddit with a discussion about some of the new features with the 3.3.2 update.