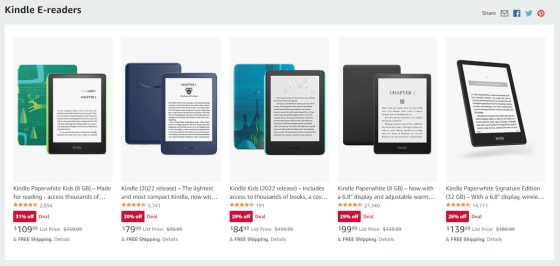 Last weekend Amazon had the Kindle Paperwhite and Kindle Scribe on sale, but for some reason they ended the sale after just a couple of days. Now here we are a week later and the Kindle Paperwhite is on sale again, along with the entry-level Kindle and all of the kids bundles.
The Kindle Oasis is being left out of the deals once again, and the Kindle Scribe isn't on sale this time either, but they do have a coupon code to get a $25 ebook credit when purchasing the Kindle Scribe or the Kindle Scribe Essentials bundle. Amazon's official Kindle covers also aren't on sale this time around
The sale price on the 2022 Kindle doesn't make a lot of sense. They have it marked down to $79.99, but they also have the Kindle Kids bundle package on sale for the same price, and it comes with a cover and an upgraded 2-year warranty.
However, only the Space Whale version of the Kids Kindle is $79.99; the other two versions are $84.99 for some reason. As I've mentioned many times before, the kids bundle packages are often the best deals because of the included cover and upgraded warranty that covers accidental breakages, unlike the standard Kindle warranty.
Amazon also has a list of Kindle ebooks on sale today only, as they often do on Sundays, and there are some good books marked down to a few bucks so it's worth looking over the list if you're looking for something new to read.
Kindle Sales List
Kindle (2022) – $79.99 ($20 off)
Kids Kindle – $79.99 ($40 off)
Kindle Paperwhite 5 – (8GB) $99.99 ($40 off)
Kindle Paperwhite 5 – (16GB) $109.99 ($40 off)
Kindle Paperwhite Kids – (8GB) $109.99 ($50 off)
Kindle Paperwhite Kids – (16GB) $119.99 ($50 off)
Kindle Paperwhite Signature Edition – $139.99 ($50 off)
Kindle Scribe – Get $25 ebook credit with purchase of a new Kindle Scribe or Kindle Scribe Essentials Bundle; use code 25SCRIBE during checkout.
Kindle eBooks Sale – 4/2 only