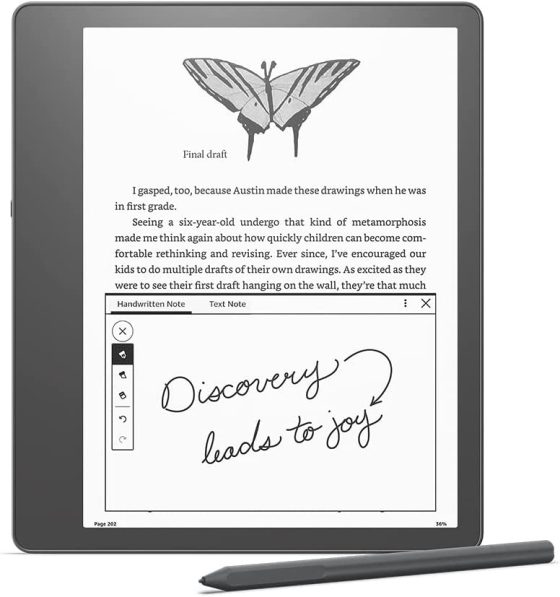 Amazon currently has the Kindle Scribe and Kindle Paperwhite on sale (except the Signature Edition), and Amazon's official Kindle covers are on sale as well.
It's been a while since the last Kindle sale, and Amazon isn't holding back this time. You can get up to $65 off on the Kindle Scribe and up to $50 off on the Kindle Paperwhite. The Scribe is at its lowest sale price since it was released.
Amazon's sales are kind of weird lately. They aren't including the entry-level model in this round of deals so it and the 8GB Kindle Paperwhite are the exact same price. I like the new Kindle with the 300 ppi screen and smaller design, but the Paperwhite is a much better value for the price and it's not even close.
And the Kindle Scribe is nearly the same price as the Kindle Oasis without ads, which isn't on sale either. Considering how much larger the screen is on the Scribe and how many extra features it has compared to the Kindle Oasis it's weird to see them priced so similarly.
Speaking of the Kindle Scribe, Amazon updated the software a few weeks ago to add some more features so it has more pen types now, with support for pressure sensitivity, and they added support for sub-folders in the notebook app. See my Kindle Scribe review for more details about the device.
Kindle Scribe Sales List
Kindle Scribe 16GB with Basic Pen – $289.99 ($50 off)
Kindle Scribe 16GB with Premium Pen – $314.99 ($50 off)
Kindle Scribe 32GB with Premium Pen – $329.99 ($60 off)
Kindle Scribe 64GB with Premium Pen – $354.99 ($65 off)
Kindle Scribe Covers on Sale
Kindle Scribe Fabric Folio Cover – $52.99 ($7 off)
Kindle Scribe Leather Folio Cover – $70.99 ($9 off)
Kindle Scribe Premium Leather Folio Cover – $69.99 ($20 off)
Kindle Paperwhite Sales List
Kindle Paperwhite 5 – (8GB) $99.99 ($40 off)
Kindle Paperwhite 5 – (16GB) $109.99 ($40 off)
Kindle Paperwhite Kids – (8GB) $109.99 ($50 off)
Kindle Paperwhite Kids – (16GB) $119.99 ($50 off)
Kindle Paperwhite Covers
Fabric Cover – $25.99 ($9 off)
Leather Cover – $31.99 ($12 off)
Cork Cover – $36.99 ($13 off)