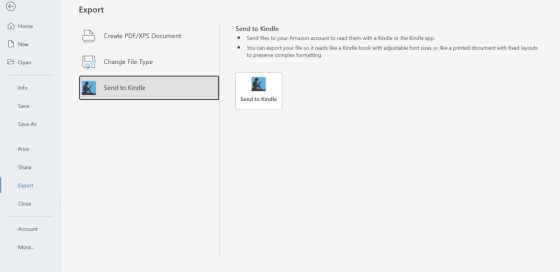 Amazon recently added a new help article to the Send to Kindle webpage on the Amazon website with directions on how to send documents from Microsoft Word directly to the Kindle Scribe, so it looks like the new feature is about to drop at any moment.
Amazon has been talking about sending Word documents to the Kindle Scribe since it was first announced last September, and I still fail to understand why Amazon is making such a big deal out of this one feature, especially since the send to Kindle apps have supported sending DOC and DOCX files to Kindles for many years.
Nonetheless, being able to send Word documents directly to the Kindle Scribe for markup will certainly appeal to some folks, and it looks like there will be two ways to do it.
First off, as Amazon notes on the help page, sending documents to Kindles from Microsoft Word requires a Microsoft 365 subscription. Also, you'll be able to read your sent documents on Kindle devices and Kindle apps, not just the Kindle Scribe, but the Kindle Scribe is the only one that can add handwritten notes to sent documents.
When you want to send a Word document to your Kindle, you can use the Export option within Microsoft Word, and you can also use a web browser with the web version of Microsoft Word to export documents to Kindles.
When exporting a Word document, there's an option to choose how you want the file to display on your Kindle. You can choose to have it formatted like a Kindle ebook, or you can choose to have it look like a printed document.
The second option keeps the original layout of the page and allows you to write and highlight directly on the page using a Kindle Scribe. With the ebook-formatted option, you can also add highlights and handwritten notes, but instead of being able to write directly on the page you have to use sticky notes like with regular Kindle ebooks.
Amazon has some screenshots on the Send to Kindle from Microsoft Word help page for reference.