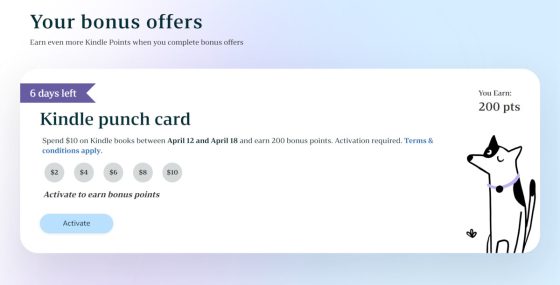 If you're planning on buying any Kindle ebooks this week, you're going to want to activate this new bonus offer first that Amazon is doing because you can get 200 bonus points when spending $10 on Kindle ebooks, which basically equates to a free $2 bonus to spend on a future Kindle ebook purchase.
The bonus points deal has to be activated on the Kindle Rewards page at Amazon before it will take effect so make sure to do that first before buying any Kindle books.
This bonus offer deal runs from April 12th through April 18th, so you have until then to spend $10 on Kindle ebooks after activating the deal, but the offer is only available for accounts that are eligible for Kindle Rewards, which seems to be limited to the US for now.
It's also worth noting the minimum threshold for redeeming Kindle bonus points is 300 so you'll have to earn 50 additional points in order to redeem the bonus points as credit (you'll earn 50 points for spending $10 so you'll earn 250 from this offer alone).
Amazon used to do similar deals like this with earning credits, but now it works with bonus points instead ever since they started the Kindle Rewards Beta program last October. But they don't seem to be doing these types of deals as much as they used to; I think this is the first time this year, but I may have missed one since Amazon oddly doesn't send email notifications about these deals, and yet they always do for the double point days.
Make sure to check the terms and conditions on the Kindle Rewards page for the full list of stipulations. There are some key details to keep in mind, like Kindle Points having to be redeemed within 6 months of being issued, and the credits will expire after 30 days so make sure to use them quickly.