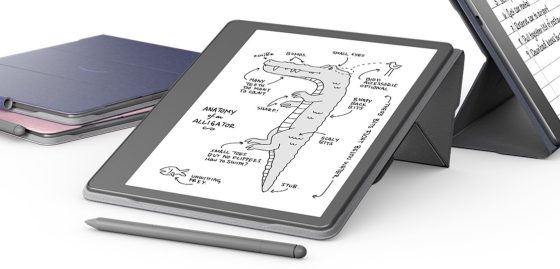 Amazon has this help article on their website with some tips for converting personal documents to a Kindle Format, and there are some things listed there that I haven't seen mentioned before, like the Kindle Scribe being unable to add handwritten annotations to documents with things like tables and mathematical equations.
That last part is particularly odd considering I have a PDF that's been converted to Kindle format on my Kindle Scribe right now that has a bunch of math equations and adding handwritten notes to the file works fine, and there aren't any formatting errors or issues that I can find.
But according to Amazon's help page, handwritten annotations aren't supported on documents containing tables, linear gradients, footnotes inside of footnotes, mathematical equations, and multi-media content like audio, video, and SVG images.
If you're having a problem with a document and can't add handwritten notes to it or there are some formatting or conversion errors, one of those reasons might be the cause. They don't actually provide any tips to remedy the issue; they just say those types of elements are not supported.
There's also a section about getting conversion fail errors when using Send to Kindle, and they give three tips for fixing the problem.
First, make sure to remove any password protection or security settings on documents before trying to send them to a Kindle.
The documents also have to be in a supported language to successfully convert them to a Kindle format. There are over thirty languages supported so make sure to check the full list on the referenced help article at Amazon.
Lastly, they say to delete any ink drawings from Microsoft Word documents because they aren't supported and will cause conversion fail errors. They also mention that comments in Word documents will automatically get converted to Kindle footnotes with a grey background by design.
via: Tips for Converting Personal Documents to a Kindle Format