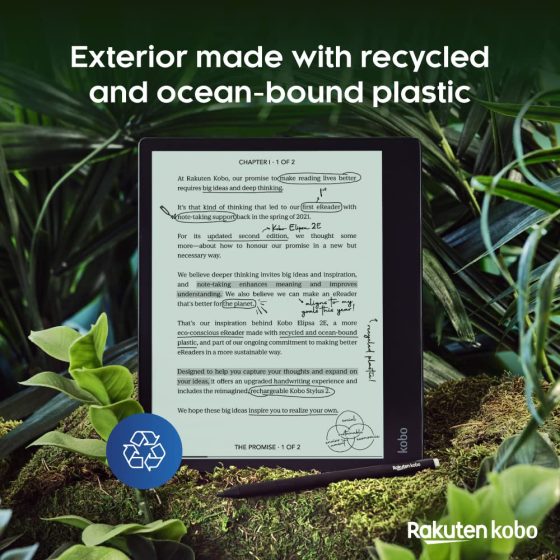 If you were waiting for one of Kobo's retailers to start selling the new Kobo Elipsa 2E, it's now available to order from Walmart's website for $399 with free shipping.
The seller is listed as BlueProton, not Walmart, but BlueProton has been selling Kobo ereaders for several years now and is listed as an official retail partner on Kobo's website, along with Walmart (those are the only two in the US). BlueProton also sells Kobo ereaders on Amazon but so far a listing for the Elipsa 2E hasn't shown up.
Kobo announced the upcoming release of the Kobo Elipsa 2E on April 5th, at which time they started accepting pre-orders for it on their website, with an expected release date of April 19th.
There aren't very many differences between the Kobo Elipsa 2E and the 1st gen Elipsa, but they did add a warm frontlight and the included stylus pen was redesigned.
Kobo's latest eNote still has the same 10.3-inch 227 ppi E Ink screen and the same general design as the 1st gen model, with 32GB of storage, a USB-C port, Bluetooth and support for dual-band WiFi, but the CPU has been bumped up to 2 GHz from 1.8 GHz.
Kobo is also finally updating the Notebook app to add some new features and they're adding more cloud options too, with support for Google Drive coming soon.
The Kobo Elipsa 2E sells for $399 in the US, the same price as the first gen model, but one difference is a cover is not included with the 2E so that has to be purchased separately.
Also, it's worth noting, you can still get a free $25 ebook gift card when pre-ordering the Kobo Elipsa 2E from Kobo's website directly. That offer expires on April 18th so it's only going to be valid for a few more days.