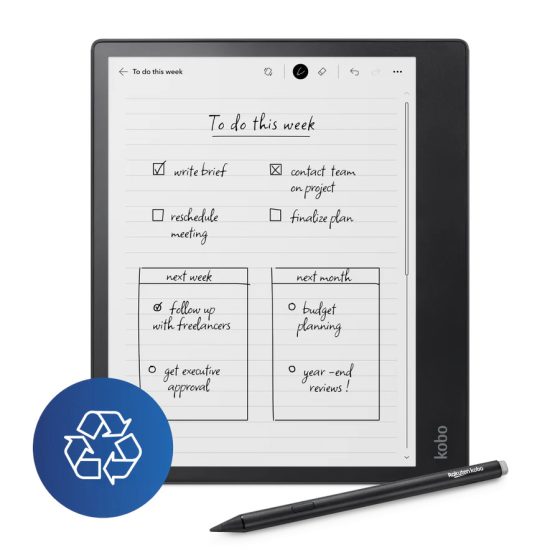 Kobo has officially announced the upcoming release of the second generation Kobo Elipsa, called the Kobo Elipsa 2E, and it will be available starting April 19th.
Kobo is selling the Kobo Elipsa 2E for $399, the same price as the 1st gen model. It can be pre-ordered now from Kobo's website, and pre-orders include a free $25 Kobo gift card that can be used to purchase ebooks and audiobooks from Kobo.
As the leaked unboxing video that was posted last week showed, they didn't really change a lot with this model. It still has the same 10.3-inch 227 ppi screen and the same overall design, although it's now partially made from recycled plastic like the Kobo Clara 2E that was released last year.
Basically Kobo just added a warm frontlight to the original Kobo Elipsa and made a few tweaks to the stylus pen. Most of the improvements are software related, and those should trickle down to the original Kobo Elipsa and the Kobo Sage with the next software update.
Some of the software improvements include more note templates, the addition of folders to help keep notes organized, they added a search tool for handwritten notes, you can make edits with a lasso tool, and they're adding some more cloud storage options. Support for Google Drive is supposed to get added soon, and they're making it so you can view your notebooks on Kobo's website.
Unfortunately it looks like Kobo is taking a page from Amazon by charging a small fortune for a cover. The original Kobo Elipsa sold for $399 and it included a heavy-duty case. The Kobo Elipsa 2E also sells for $399, but the cover sells separately for a whopping $69.99, and it's one of those covers that's basically just a front flap and nothing else. It doesn't cover the back or sides of the device and it doesn't appear to offer any real protection at all—it just covers the front of the screen and has a notch to hold the stylus.
Most of the specs remain the same as before, but apparently they're using a different CPU because now it says 2GHz instead of 1.8GHz, but storage space is still 32GB, and it supports dual-band WiFi and Bluetooth, and it has a USB-C port.
At 390 grams, the Kobo Elipsa 2E is also a bit heavier than the 1st generation model, buy only by 7 grams. The dimensions are slightly different as well at 193 x 227 x 7.5 mm (the measurements for the 1st gen model are 193 x 227.5 x 7.6mm).
Check back later this month for a full review of the Kobo Elipsa 2E, or subscribe to The eBook Reader Blog for updates.
Kobo Elipsa 2E Unveiling Video