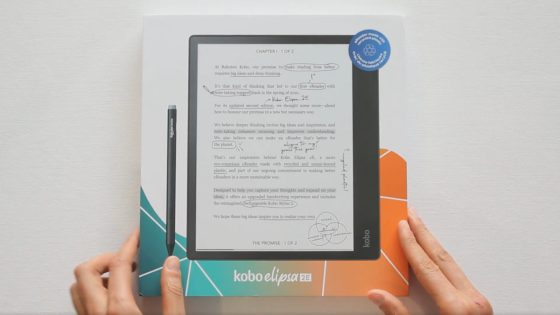 For some odd reason an unboxing video of the new Kobo Elipsa 2E was uploaded to Facebook about a month ago, so it would appear that Kobo is getting set to release their second generation eNote soon.
It doesn't look like a lot has changed from the 1st generation Kobo Elipsa. It has the same overall design and it still has the same 10.3-inch E Ink Carta 1200 screen with 227 ppi, but they did add a warm frontlight.
Apparently it's lighter than the previous version too, and it's good to see that a cover is not included this time so you can choose one on your liking.
They changed the stylus a bit as well. They're calling it the Kobo Stylus 2. It seems to use the same technology as before, but the stylus now has an eraser and it charges via USB instead of having replaceable batteries. The person in the unboxing video was pretty enthusiastic about the device, but he didn't seem to like the stylus very much.
The Kobo Elipsa 2E is also made of recycled plastic like the Kobo Clara 2E that was released last year.
It's kind of disappointing that they weren't able to add more upgrades, but a lot of people will appreciate the addition of the warm frontlight, and hopefully there will be some more software improvements as well. I couldn't help but notice the basic notebook still defaults to graph paper every time.
It will be interesting to see what price Kobo decides to sell the second generation Elipsa for when it officially gets announced. I would expect the price to go down a bit since it doesn't come with a cover now, but Kobo recently raised the prices of all their ereaders except the Elipsa so it's hard to say. The 1st gen Elipsa sells for $399 with a heavy-duty cover.
Kobo Elipsa 2E Unboxing Video
via: MobileRead