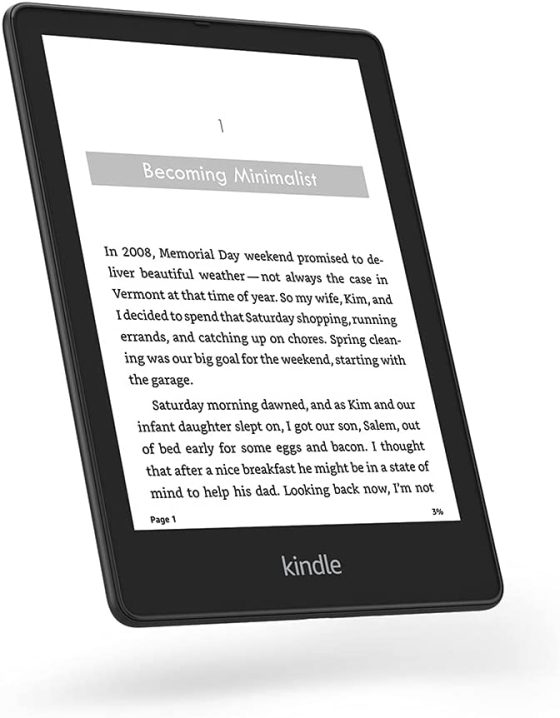 If you're looking to get a Kindle ereader at a discounted price, Amazon currently has some certified refurbished Kindles on sale for significantly cheaper than new ones, and Amazon Warehouse has some used official Kindle covers available for cheap again too.
Amazon's refurbished Kindles come with the same 1-year warranty as new Kindles so they're a pretty safe bet, and most people say the refurbished Kindles they receive from Amazon are in like new condition.
The 6.8-inch Kindle Paperwhite is available for $89.99. It's the 8GB model that sells for $139.99 new, and the refurbished list price is $124.99.
They also have the upgraded Kindle Paperwhite Signature Edition available for $125.99. It sells for $189.99 new, and the list price for refurbished units is $169.99.
If you want a cheap cover for the Kindle Paperwhite, Amazon Warehouse has fabric covers and leather covers for under $10, and cork covers for under $15. I bought some of these used covers a while ago to post a comparison review, and all three were in like new condition.
Lastly, the Kindle Oasis 3 is on sale for $169.99 refurbished. It normally sells for $249.99 new so that's a pretty significant discount. Refurbished units usually sell for $209.99. I wouldn't pay full price for such an outdated model at this point, but the refurbished price it pretty reasonable.
Amazon Warehouse also has some used Kindle Oasis covers available for cheap, with fabric covers for under $12 and leather covers for under $15.
The 1st generation Kindle Oasis is also available from Woot for $79.99 refurbished/used, but it's not the greatest deal considering it doesn't include the charging cover. The battery on the 1st gen Oasis is so small that it only lasts a few hours without the charging cover, and those are pretty much impossible to find now.
If you want a new Kindle and don't want to get a refurbished one, Amazon will most likely have new Kindles on sale for Mother's Day next month.