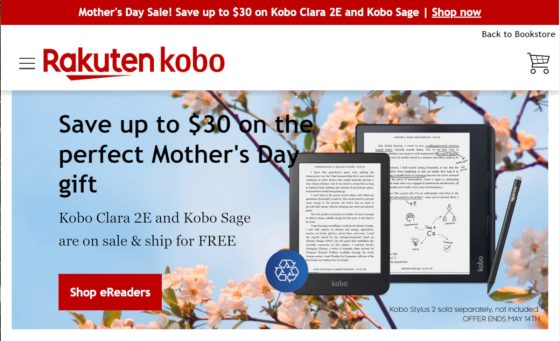 Kobo has rolled out their Mother's Day Sale on select Kobo models on their website, and the deals are available through other retailers such as Walmart and Amazon as well.
You can get $30 off on the Kobo Sage and $20 off on the Kobo Clara 2E, and the first generation Kobo Elipsa is $50 off right now too.
The $349 Elipsa deal isn't bad if you don't care about the warm frontlight on the newer model since that's about the only real usable difference, and the first gen Elipsa comes with a heavy-duty case too so that's one less thing to buy. The stylus is also a bit different on the newer version, but functionally there's not much difference between them.
The Kobo Sage deal at $239 is a good option if you want a medium-sized ebook reader with page buttons. It has an 8-inch E Ink screen, and it supports writing on the screen with a stylus like the larger Kobo Elipsa, but the Sage does not come with a stylus.
It's hard to get excited about $20 off on the Kobo Clara 2E considering Kobo just raised the price of the Clara 2E by $10 a couple months ago, but it's better than paying full price at least. Amazon is killing Kobo on the price (the Paperwhite 5 will probably go on sale for $99 for Mother's Day), but Amazon uses ad-supported models to make it seem like the prices are lower than they really are after you factor in spending $20 more on ad-free versions.
According to Kobo's website, the Mother's Day sale on the Kobo Sage and Kobo Clara 2E will end on May 14th so the discounted prices will be valid for the next couple of weeks. Technically the deal on the first gen Elipsa isn't part of the Mother's Day sale so it could have a different end date (they should just sell it for $349 permanently now that the newer model is out).