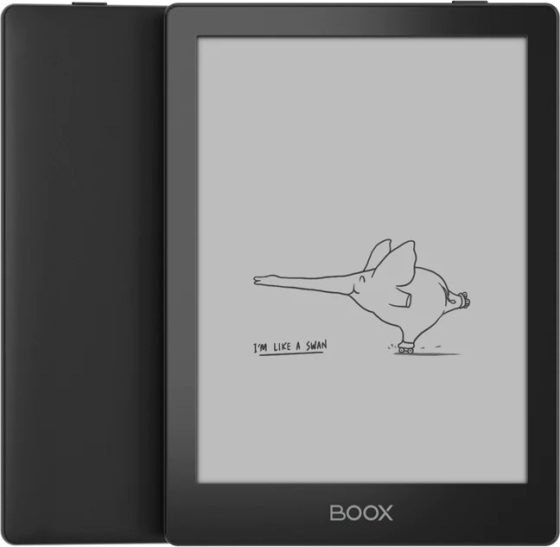 Onyx has released a new 6-inch ebook reader called the Poke5. They never released the regular Poke4 internationally, just the watered-down Poke4 Lite, so this is the first 6-inch 300 ppi ereader that Onyx has released internationally since the Poke3 in 2020.
Frankly, there appears to be very little "new" with the Poke5; the specs are pretty much the same as the Poke3. If anything it looks like a slight downgrade because they changed from an 8-core CPU to a quad-core CPU, and the overall weight of the device has jumped up to 160 grams from 150 grams.
However, they did add a microSD card slot so that's definitely a win, and the OS is based on Android 11 instead of Android 10.
The Poke5 is also a few millimeters shorter than the Poke4 and Poke3 at 148 x 108 x 6.8mm (the Poke4 Lite is 153 x 107 x 7.1mm).
Other than that, the specs are pretty much identical to the Poke3. It has 32GB of storage, 2GB of RAM, it has a 6-inch 300 ppi E Ink screen with adjustable frontlight color (with a flush front layer), there's dual-band WiFi support, Bluetooth 5.0, it has a built-in microphone (but no speakers), and a USB-C port with support for OTG.
The price is listed at $179 when purchased from Onyx's website, which makes it the most expensive 6-inch ereader on the current market, but that's $10 less than the Poke3 sold for when it was still available.
Don't expect this to turn up on Onyx's Amazon store because they don't sell their Poke and Leaf models on Amazon for some odd reason, but it might turn up on B&H or Best Buy's website at some point.
The Meebook M6 is another similar 6-inch Android ereader that was recently released. It has 3GB of RAM instead of 2GB, and the price is $20 lower than the Poke5 on Amazon, but Onyx's software is generally a bit more advanced and refined.
Poke5 Official Unboxing