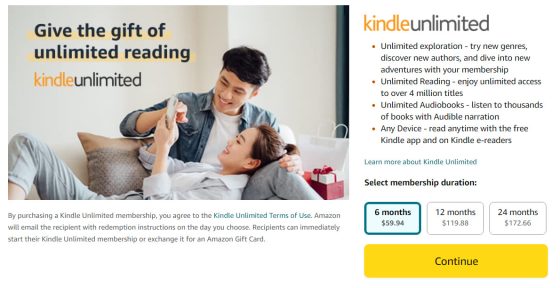 Yesterday Amazon started sending out emails to Kindle Unlimited subscribers in the US notifying them about a rate increase for monthly KU plans that takes the price from $9.99 per month to $11.99 per month.
Most people don't seem to know that there's still a way to get Kindle Unlimited at a lower price via Amazon's Kindle Unlimited Gift Deals, and the lower prices are always available and have been for many years. If you buy 6 months at once you can still get it for the old price of $9.99 per month. The same goes for buying 12 months. If you buy 24 months you can get it for $7.20 per month.
The price increase is going to make a lot of people unhappy, but Kindle Unlimited has been at $9.99 per month since it launched in 2014 so the price was inevitably going to increase eventually, just like the cost of Amazon Prime and everything else.
It's interesting timing though, because Kobo just launched a competing program called Kobo Plus last month, and it's $9.99 per month in the US for their similar ebook and audiobook plan, but Kobo has the option to subscribe to an ebook or audiobook plan individually for $7.99 per month. Because of Amazon's exclusivity rights, Kobo doesn't have nearly as big of a selection as Amazon, but their lower monthly price might appeal more to some readers now.
It's still possible to get Kindle Unlimited trials for free or at a discount for those that don't have an active membership. Like right now the 2 months free offer is still valid, and whenever you buy a new Kindle you have the option to add 3 months for free, and those will stack with an active subscription.
The Kindle Unlimited price increase to $11.99 per month officially went into effect on May 11th, 2023.
What do you think about the price hike? Is it enough to keep you from renewing or starting a Kindle Unlimited subscription?