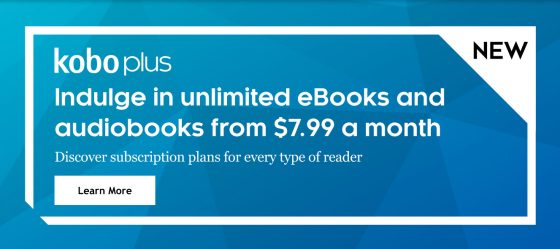 In addition to announcing the Kobo Elipsa 2E yesterday, Kobo also launched their Kobo Plus subscription service in the US and UK.
It's similar to Kindle Unlimited where subscribers pay a monthly fee to have unlimited access to a select library of ebooks and audiobooks. Kobo currently offers over 1.3 million ebooks and over 100,000 audiobooks in their Kobo Plus catalog, with more titles being added each month.
The cool thing with Kobo is they have different plans for ebooks and audiobooks so you can just subscribe to one or the other instead of both, and you can subscribe to both as well.
In the US, Kobo Plus costs $9.99 per month for the ebook and audiobook plan, or you can just subscribe to ebooks or audiobooks for $7.99 per month. In the UK, the prices are €12.99 GBP and €9.99 GBP respectively.
Kindle Unlimited is also $9.99 per month in the US. Amazon doesn't offer separate plans for ebooks and audiobooks, but Kindle Unlimited is only $5.99 a month if you buy 2 years at once with the perpetual gift card deal.
With Kobo Plus, you can read ebooks and listen to audiobooks using a Kobo ereader or the Kobo Books app for iOS or Android. They offer a 30-day free trail to test the waters of Kobo Plus so you can see what the selection is like.
Kobo first launched Kobo Plus back in 2017, but it was only available in a few European countries. Then they brought Kobo Plus to Canada in 2020, and many thought the US would be next, but it took a few more years than expected. It's good to see Kobo Plus finally available in the US and the UK now too.
Check this Kobo Plus page on Kobo's website for more information about how the subscription service works. There's a FAQ at the bottom of the page with answers to some common questions. One detail I don't see mentioned anywhere is how many titles they let you have downloaded at once. With Kindle Unlimited the limit used to be ten but then in late 2021 Amazon changed it to twenty.
via: Kobo