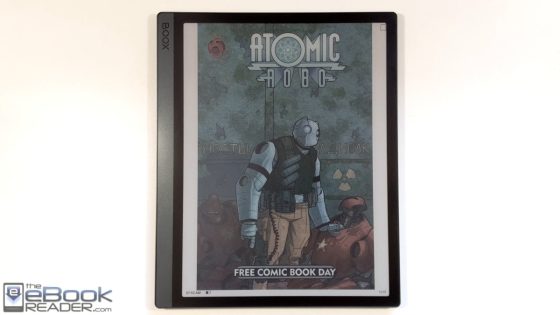 The Tab Ultra C is the latest device from Onyx to feature a color E Ink screen. It's their first to use the new and improved Kaleido 3 screens from E Ink with 150 ppi for color and 300 ppi for black and white, and it's also Onyx's first large-screen (10.3″) device to feature a color E Ink screen.
When it comes to reading comics and other image-heavy content on the Tab Ultra C, the built-in Neo Reader app works quite well, with minimal ghosting and a reasonable amount of flashing as the screen refreshes, so it helps to have comics in CBZ and CBR format, or even PDFs if the quality is good.
As always with third-party apps that aren't designed for E Ink screens, ghosting and excessive flickering can be an issue at times. It depends on the app. Some work well at the default settings (the Kobo app is surprisingly smooth paging through manga), and some need to be "optimized".
Before we get into that, it helps to know the Tab Ultra C has five different refresh modes: HD, Balanced, Fast, Ultra Fast, and Regal.
In addition to those modes, Onyx offers a number of confusing and mysterious settings to further optimize the refresh quality of the screen. These settings are fully customizable on an app-by-app basis.
The trick is to find the magic combination of settings that work for each app. A lot of this is shown in the video so I won't drag on.
Anyway, it can take some time and a lot of trial and error to find a good balance between flashing and ghosting, and it helps to manually refresh the screen at times.
There are a number of ways to manually trigger a full screen refresh on the Tab Ultra C. I set the swipe-from-the-right gesture to fully refresh the screen. You can also use the Navigation Ball or the quick settings menu.
There's the option to have the screen fully refresh automatically, but there seems to be a bug that keeps if from working properly so hopefully they get that fixed soon.
To sum up, comics and color E Ink are a good combination with the right settings, much better than plain old black and white E Ink screens. LCD screens still exist, though, and color E Ink isn't going to be everyone's cup of tea, but I have to admit that comics do look surprsingly good on the Tab Ultra C.
Tab Ultra C Comics Video Review