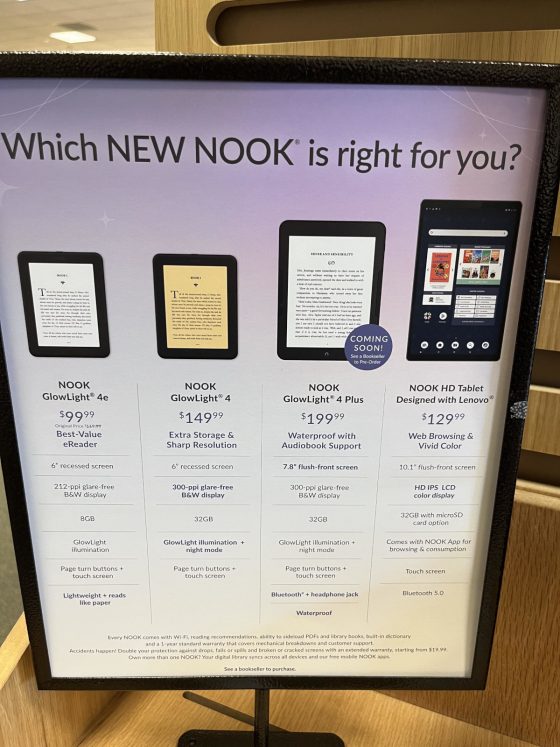 There's a post over on reddit with visual proof (posted above) of a new Nook ereader that's about to get released soon, and it's going to be called the Nook Glowlight 4 Plus.
It looks like the new Nook is basically a second generation version of the 7.8″ Nook Glowlight Plus that was released in 2019.
According to a sign that was photographed at a B&N retail store, the Nook Glowlight 4 Plus has a 7.8-inch flush-front screen with 300 ppi, and it has "GlowLight illumination + night mode" (that's just fancy talk for a frontlight with adjustable color temperature).
The new Nook has 32GB of storage space so there's more than enough space for ebooks, and they're also adding audiobook support to this model. The device has a headphone jack and Bluetooth for listening to audiobooks.
The new Nook also has page-turn buttons (it's a Nook thing), two on both sides of the screen, by the looks of it. The device is also waterproof. The price is listed at $199.99, which is pretty reasonable for a 7.8″ ereader.
That's pretty much all the details we have to go off of at this point. Barnes and Noble still hasn't announced the new Nook officially, and it's nowhere to be found on the B&N website yet.
The in-store poster has a "Coming Soon" label on it, and it says to "see a Bookseller to Pre-Order", so they're probably getting ready to announce the new Nook Glowlight 4 Plus (that's kind of a long name) soon.
What do you think of this new 7.8″ Nook? There aren't very many flush-screen ereaders with page buttons so that's kind of different, and the overall design looks smaller than the last version, but I still don't understand why these companies keep trying to make a big deal about having audiobooks on ereaders. I just don't think that's something most people care about.
via: reddit