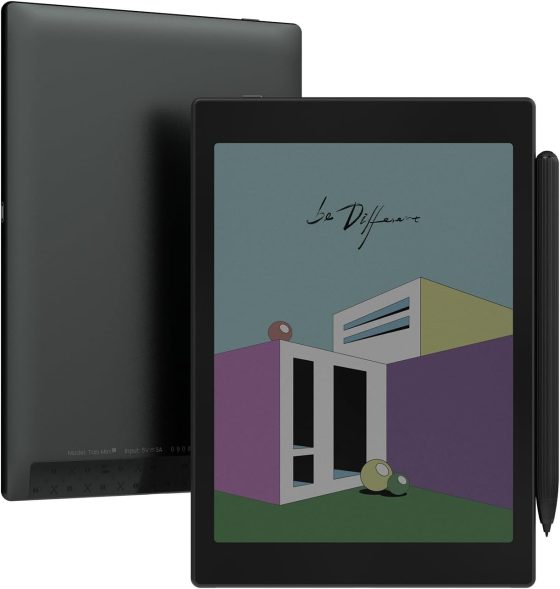 Onyx has announced a couple of new models that they're adding to their lineup, including a smaller version of the Tab Ultra C called the Tab Mini C.
The Tab Mini C has a 7.8-inch Kaleido 3 screen with 300 ppi for black and white content and 150 ppi for color content. It has a flush front screen and a frontlight with adjustable color temperature. Plus it comes with a stylus for notetaking.
The Tab Mini C runs Android 11 and it has an octa-core CPU with Onyx's "exclusive GPU" for improved performance. There's 4GB of RAM and 64GB of onboard storage, but it does not have a rear camera or a microSD card slot like the larger Tab Ultra C.
The Tab Mini C also has dual speakers, a microphone, a USB-C port, a rotation sensor, WiFi, Bluetooth, and a 5000mAh battery. It weighs in at 264 grams and the dimensions are 194 x 136.5 x 8.3mm.
I just posted a review of the Tab Ultra C earlier this month so I won't be reviewing this model since it's basically just a smaller version. It does look like it has rounder edges so it should be more comfortable to hold and the back doesn't have the bump for the rear camera so that's a plus. The Kaleido 3 screens are definitely a step up from the earlier color screens, but they're still darker than regular E Ink screens so you have to rely on the frontlight more.
The Tab Mini C is available to order from Amazon for $449. Shipping is currently listed at 1-3 weeks away. The Nova Air C sells for $50 less, but it has the previous generation Kaleido screen with 100 ppi for color, it has a much smaller battery (2000mAh), it lacks the rotation sensor and dedicated GPU, and it has less RAM and storage space (3GB and 32GB).
Video: Introducing Tab Mini C