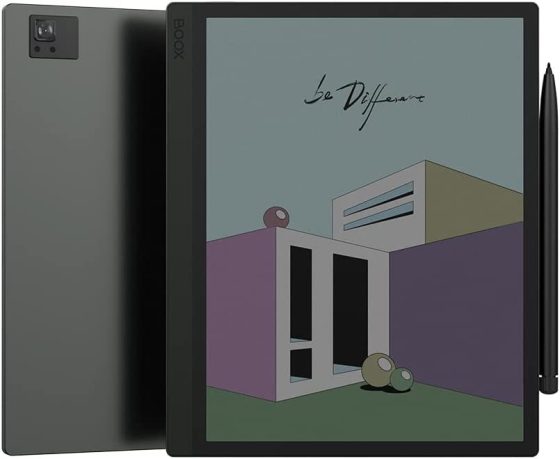 Review Date: June 2023 – Review unit purchased from Amazon
Overview
Onyx released the Boox Tab Ultra C in May of 2023. It's their first 10-inch device to use a color E Ink display, and it features the latest version, called Kaleido 3, with 300ppi for black and white content and 150ppi for color.
Onyx also sells a version of the Tab Ultra (without the "C") that has a regular black and white E Ink display. Other than the screen, the specs and overall design are virtually identical.
The regular Tab Ultra sells for $559 and the Tab Ultra C sells for $599. Onyx also sells a Tab X with a flexible 13.3-inch E Ink screen for $879.
The Tab line has more advanced specs than Onyx's Note line, and they have a dedicated GPU to improve the refresh rate and responsiveness of the E Ink screen, but the Note models can do most of the things the Tab line can do as far as ereading and notetaking.
Tab Ultra C Review
Pros
The Tab Ultra C has the best color E Ink screen that I've seen yet, but that comes with a number of caveats; the refresh rate is impressive for E Ink, though, and scrolling is surprisingly smooth when using a fast refresh setting.
The UI is less cluttered and clunky than usual for an Onyx device, and navigating is quick and seamless when using gestures.
Onyx's software allows for endless customization, with countless settings and options to explore, and Android apps can be installed from Google Play as well.
Cons
Heavier than other 10″ eNotes, and it has a blockier feel because the edges aren't as rounded as usual, and the back is pretty slick.
Ghosting issues are much improved over the Nova 3 Color, the last color ereader from Onyx that I reviewed, but color content is still more prone to ghosting.
Battery life is more like a tablet than a typical E Ink ereader when web browsing and using apps, even with the massive 6300mAh battery.
Verdict
I've been critical of color E Ink since the beginning, but now with the Tab Ultra C I'm finally starting to come around. With a device like this it largely comes down to expectations, and you have to be willing to accept some shortcoming with color E Ink, like the fact it's never going look as good as LCD screens, and the refresh rate is always going to be slower, but E Ink has some unique advantages of it's own.
I still think something like the Kindle Scribe or Kobo Elipsa 2E is going to be a better option when it comes to reading regular ebooks, but it is nice to have the color screen on the Tab Ultra for consuming other types of color content, along with browsing the web and having multi-colored notes.
Tab Ultra C Video Review
More Tab Ultra C Reviews
Kindle Scribe vs Tab Ultra C Comparison Review
Tab Ultra C Screen Comparison Review
Tab Ultra C Comics Review
Boox Tab Ultra C Specs
10.3-inch E Ink Kaleido 3 screen.
Resolution: B/W: 2480 x 1860 (300 ppi) Color: 1240 x 930 (150 ppi).
Boox stylus included, supports 4,096 levels of pressure sensitivity.
Capacitive touchscreen.
Frontlight with warm and cool temperature control.
OS: Android 11 with Google Play.
CPU: Qualcomm octa-core.
4GB RAM.
128GB storage space.
MicroSD card slot.
WiFi (2.4GHz + 5GHz).
Bluetooth 5.0.
USB-C port with OTG support.
Battery: 6,300mAh Li-ion Polymer.
16MP rear camera.
Rotation sensor.
Fingerprint reader.
Dual speakers and mics.
Supported document formats: PDF, DJVU, CBR, CBZ, EPUB, AZW3, MOBI, TXT, DOC, DOCX, FB2, CHM, RTF, HTML, ZIP, PRC, PPT, PPTX.
Dimensions: 225 x 184.5 x 6.7 mm.
Weight: 480 grams.
Sells for $599 USD on Amazon.