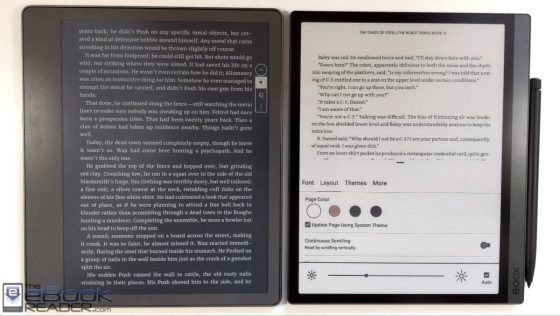 I thought it would be interesting to do a comparison review between two devices that are at opposite ends of the eNote spectrum in terms of price and features.
The Onyx Tab Ultra C sells for $599 and it has a 10.3-inch color E Ink screen with 300 ppi for black and white and 150 ppi for color. The Kindle Scribe starts at $339 and it has a 10.2-inch black and white 300 ppi E Ink screen, and it can be had for less than $300 when it's on sale and you can also get 20% off with a trade-in.
There's also the regular Tab Ultra with a 10.3-inch black and white screen and 227 ppi that's currently on sale for $499. Aside from the screen, it's the same as the Tab Ultra C.
The Kindle Scribe is more basic than the Tab Ultras in terms of the number of things it can do, it has fewer settings when reading ebooks, and it has less notetaking features overall.
The Tab Ultra C and the regular Tab Ultra have a lot more user-configurable settings, and they're more advanced than Kindles in terms of specs and features, especially since they run Android 11 and are open to installing apps.
However, Kindles and Kobos are still better as pure ereaders than Android devices, in my opinion. First off, Onyx's built-in app doesn't support ebooks with DRM so you have to remove the DRM or use third-party apps for purchased ebooks, and Android apps aren't designed for E Ink screens so they're more glitchy than an actual Kindle or Kobo ereader.
Kindles are more basic but they're better optimized for E Ink screens than Android devices. For example, the Tab Ultra has far superior specs with an 8-core CPU, 4GB of RAM, and a dedicated GPU to improve performance, and yet the Kindle Scribe still opens books faster, it turns pages faster, and open menus and the dictionary faster.
The Tab Ultra has a number of advantages over the Scribe in other area, though. When it comes to web browsing there's no contest. Plus Onyx's built-in Neo Reader app has far more features for PDFs, and it offers way more customization options for ebooks. It also supports things like text-to-speech, you can write directly on ebooks, there's a split-screen feature to view a notebook and a document at the same time, or two documents side-by-side.
Onyx's Tab devices also support connecting keyboards, there's a camera for scanning documents, they have a microSD card slot and 128GB of storage space, there's a fingerprint sensor, and dual speakers and dual mics.
Conclusion
Basically what it comes down to is the Kindle Scribe is a great ebook reader, a pretty good PDF reader, a decent but basic eNote, and it has really good battery life. It can also play audiobooks and do a few other things, but it's primary focus is reading and notetaking.
The Onyx Tab Ultra C is a pretty good ereader, a great PDF reader and comic viewer, it has a bevy of notetaking features, and it can do a lot more things than a typical ereader, like browsing the web, using Android apps, scanning documents, it can be used as a word processor, a voice recorder, and the list goes on.
Check the full reviews for more details about each model:
Kindle Scribe Review
Tab Ultra C Review
Tab Ultra C vs Kindle Scribe Video Review