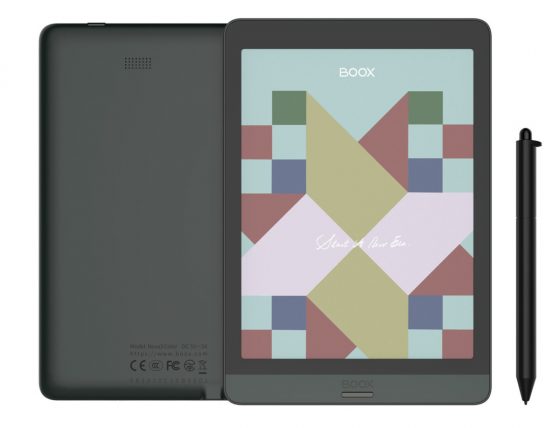 Review Date: April 2021 – Review unit purchased from Amazon
Overview
The Onyx Boox Nova3 Color was released in early March 2021. It comes with one of the new updated 7.8-inch Kaleido Plus screens from E Ink, and it's the second device from Onyx to use E Ink's new color screen—the first was the 6-inch Poke2 Color that was released in August of 2020.
Aside from the color screen, the Nova3 Color is essentially exactly the same as the regular Nova3, except it lacks a warm frontlight and it costs $80 more, but the specs are the same and so is overall performance.
The Nova3 Color comes with 32GB of storage, 3GB of RAM, and it's quite zippy thanks to the octa-core CPU. It also supports dual-band Wi-Fi, Bluetooth, and it has a Wacom touchscreen for notes and drawings, along with a USB-C port that supports OTG.
Nova3 Color Review
Pros
The new Kaleido Plus screen looks better than the 1st gen Kaleido screen on the Poke2 Color.
Android operating system open to install apps means lots of options to take advantage of the color screen.
It's considerably faster than the Pocketbook InkPad Color—the only other 7.8-inch color ereader currently available.
Cons
Too expensive.
Lots of ghosting.
Text contrast is noticeably better on regular E Ink screens, and the screen is rather dark without the frontlight turned on all the time.
Verdict
Because of the open Android operating system and overall specs, the Nova3 Color is the best ereader on the market with a color E Ink screen, but I still don't think it's better than the regular Nova3 with a black and white E Ink screen.
The bottom line is it's hard to recommend a device that costs so much, especially with the odd quirks of color E Ink. There are lots of ghosting issues, the screen has a darker appearance than regular E Ink screens, and text contrast isn't as good. I think most people would be much happier with a nice tablet than spending $420 on an ereader with a color screen. And as far as E Ink ereaders go, I think the Note Air with a larger 10.3-inch screen is a much better buy for only $60 more than the Nova3 Color. If you must have a device with a color E Ink screen, the Nova3 Color is the best one to get, but make sure you're willing to accept the shortcoming of color E Ink before buying.
Nova3 Color Video Review
Color E Ink Screen
See my color E Ink comparison review for a closer look at E Ink's new Kaleido Plus screen technology, with a comparison between the older color screens and a regular black and white screen on a Kindle. The comparison shows the Pocketbook InkPad Color, but it has the same screen as the Nova3 Color.
Additionally, here's the link to the Nova3 Color vs regular Nova comparison to see how color E Ink compares to regular E Ink.
Software
Onyx's current lineup of devices all run software based on Android 10 and they are open to installing Android apps. This is a big advantage when it comes to accessing color content. Google Play can be activated as well, but E Ink devices aren't officially supported so it's a bit of a hack job. I just use Onyx's built-in appstore and sideload apps to avoid the hassle.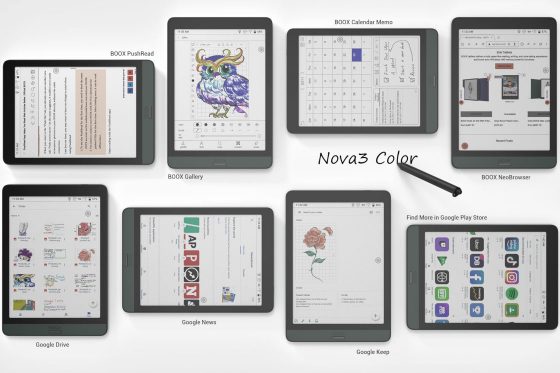 Needless to say, you can install and use most reading apps without problems, but you may need to use the optimize settings to increase the refresh rate to avoid ghosting issues (afterimage artifacts) with color E Ink. Color really needs to be fully refreshed with every page turn, and Onyx seldom does so by default so you have to go in and change the settings. The same goes for the built-in NeoReader app. They added a deep refresh mode to help reduce ghosting but then the screen flashes with every page turn, which some people don't like.
If you'd like to see a list of software features, please refer to the Nova2 review from last year. You can also find a list of new features that were added in the 3.0 firmware and 3.1 firmware update.
Onyx Nova3 Color Specs
7.8-inch E Ink Kaleido Plus screen.
1872 x 1404 resolution (300ppi black and white/100ppi color).
Wacom touchscreen, comes with stylus.
Capacitive touchscreen (2-point).
Frontlight with cool color.
Android 10.0 operating system.
Octa-core processor.
32GB storage space.
3GB RAM.
2.4GHz + 5GHz Wi-Fi.
Bluetooth 5.0.
USB-C port with OTG support.
Speaker, mic.
3150mAh Polymer Li-on battery.
Supported formats: EPUB, PDF, MOBI, TXT, FB2, HTML, DJVU, RTF, DOC, CHM, plus more via apps.
Dimensions: 197.3 x 137 x 7.7mm.
Weight: 275 grams.