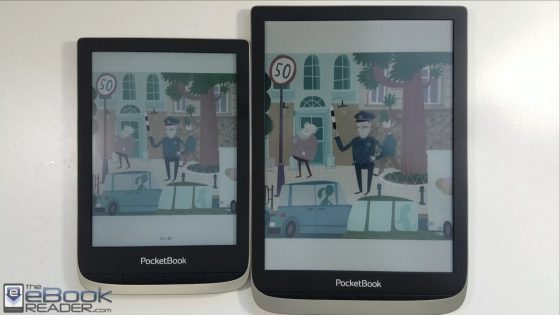 Pocketbook just released a new 7.8-inch ereader called the Pocketbook InkPad Color with a supposedly "better" color E Ink screen, and now that I've gotten my hands on one, I can see that E Ink did indeed improve their color Kaleido screen technology on this new model.
Compared to the 6-inch color E Ink screens that were released last year, the new 7.8-inch color screens have darker colors and a lighter background, and the color filter grid that goes over the top of the screen is less visible.
At first glance it doesn't look like much has changed, but upon closer evaluation you can definitely tell the new color screen looks better than the old. The new screen still has the same 300ppi for text and 100ppi for images, but colors are a bit darker and more solid in appearance, and the screen doesn't look as gray as before, although it is still noticeably darker with the frontlight turned off than a regular E Ink screen.
On forums there are a lot of people that have never seen color E Ink in person complaining about how 100ppi for color is too low and color E Ink is rubbish because of it. To me, that's not a big issue at all. Colors look fine at that resolution. The bigger problem is the appearance of the text.
The main downside with color E Ink screens is black and white text has less contrast than regular E Ink screens because of the added color filter layer. Despite some improvements with the newer panel, color screens still don't look as good as regular black and white E Ink screens when it comes to displaying text, and unfortunately that's unlikely to change.
Don't get me wrong. Text is easily readable on these color E Ink screens, and if you had nothing to compare them to you might think nothing of it, but the text simply isn't as dark as it is on regular E Ink screens, and the background isn't as light.
For anyone that has never seen a regular monochrome E Ink screen before they might think the color screen looks fine, but once you've gotten used to what E Ink screens look like it's hard to accept a downgraded version. Having color is great, but when it comes to reading regular text, color E Ink is a clear downgrade. It's like going back to old E Ink Vizplex screens from over ten years ago.
Unless you read stuff like comics and manga and magazines heavily, I just don't see a reason to get a device with a color E Ink screen over an ereader with a regular black and white E Ink screen.
I do think there's a place for color E Ink, and I think the colors actually look pretty good given the technology, but I personally have zero interest in reading ebooks on a color E Ink screen because of the lower contrast. That doesn't mean others wouldn't be fine with it, but without being able to match regular E Ink screens for text quality, it's hard to see how color E Ink is going to take off. But then again contrast on E Ink screens has been steadily declining for years so maybe that's just where things are headed.
What do you think? Do you want an ebook reader with a color E Ink screen or do you prefer the higher contrast on regular black and white E Ink screens? Is there enough of a market for color E Ink if it's only good for things like comics and manga and kid's books?
Video: Color E Ink Screen Comparison