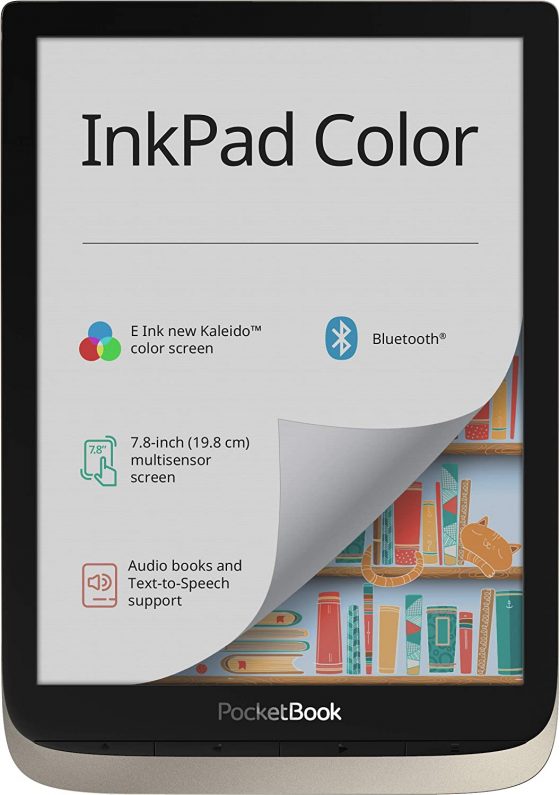 Earlier this month PocketBook unveiled the PocketBook 740 Color, the first ereader to come with a 7.8-inch color E Ink screen, and now the device has already turned up for sale on Amazon.
The recently-launched PocketBook International storefront is selling the new PocketBook InkPad Color for $329 with free shipping.
The device is also available from PocketBook's Newegg store, but shipping costs a little extra.
The PocketBook InkPad Color is largely the same as the smaller 6-inch PocketBook Color that was released last year, except it adds a larger 7.8-inch E Ink Kaleido screen and they switched to a USB-C port.
It has the same resolution as the 6-inch version, with 300 ppi for text and 100 ppi for colors, but PocketBook claims it has a "new" Kaleido screen with improved colors and a whiter background. I ordered one to review to see how much the new Kaleido screens have improved, so check back soon for a closer look.
Like its smaller sibling, the PocketBook InkPad Color has a dual-core 1GHz CPU with 1GB of RAM and 16GB of built-in storage. It also has a microSD card slot, Wi-Fi, Bluetooth, and a frontlight, but these color models lack the warm frontlight.
The InkPad model has a 2900mAh battery and the device weighs 225 grams.
PocketBooks support a number of formats, including ePub, PDF, CBR, CBZ, FB2, HTML, MOBI, and others. It also supports audio files and text-to-speech. The operating system is Linux-based.
PocketBook InkPad Color