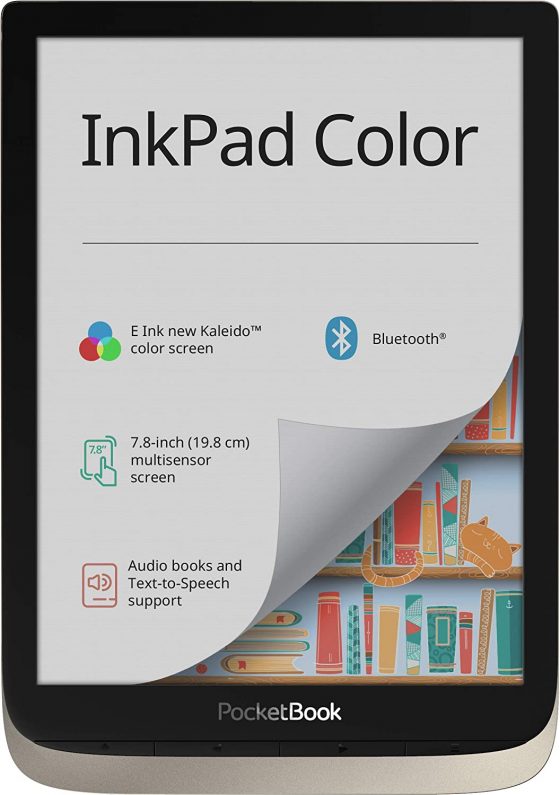 Review Date: March 2021 – Review unit purchased from Amazon
Overview
The Pocketbook InkPad Color was released in March 2021. It has a 7.8-inch color E Ink screen and is the second ereader from Pocketbook to use a color Kaleido screen, the first being the 6-inch Pocketbook Color that was released in 2020.
The Pocketbook InkPad Color has the same design as other Pocketbooks, with physical page buttons below the screen, along with a menu button and home button. On the bottom edge it has a USB-C port and a microSD card slot, plus a power button.
The device comes with 16GB of storage, 1GB of RAM, and it's powered by a dual-core 1GHz CPU. Other specs include Wi-Fi, Bluetooth for audio and text-to-speech, and it has a rotation sensor and a frontlight with an auto-adjusting sensor.
Like other color models, the frontlight color is not adjustable with a warm setting—it has a cool frontlight only.
Pocketbook InkPad Color Review
Pros
The 2nd gen color E Ink screen, Kaleido Plus, has improved noticeably over last year's version.
Nice design that's comfortable to hold from the sides or bottom, and it has physical page buttons below the screen.
MicroSD card slot and USB-C port (it even comes with a 3.5mm adapter for headphones).
$90 cheaper than Onyx's 7.8-inch color model.
Cons
Sluggish performance—slow to turn pages and open files, especially comics.
Text contrast with color E Ink isn't as good as regular E Ink.
Verdict
Like other Pocketbooks, I really like the design of the InkPad Color, and the improved Kaleido Plus screen looks surprisingly good as long as you keep the frontlight turned on, but ultimately it's hard to recommend the InkPad Color because of the slow performance—it's quite possibly the slowest ereader on the current market.
The Pocketbook InkPad Color is a nice device if you don't mind slower page turns and having less contrast than a regular E Ink screen, but if you value performance look elsewhere. The Onyx Nova3 Color is a lot faster and more advanced with the Android operating system that can install apps, but the Nova3 Color costs nearly $100 more than the Pocketbook so that doesn't help make the choice any easier. I'll post a comparison between the two soon.
Pocketbook InkPad Color Review
Color E Ink Screen
See my color E Ink comparison review for a closer look at E Ink's new Kaleido Plus screen technology, with a comparison between the older color screens and a regular black and white screen on a Kindle.
Software
Pocketbooks support common formats like ePub and PDF, including books with Adobe DRM, and comic formats like CBR and CBZ.
The software is fairly customizable. You can change and rearrange the icons that appear on the homescreen, and the hardware buttons support key mapping so you can change how they react with long presses and short presses. Pocketbook's software also supports user profiles if more than one person is using the device.
Pocketbook's software is Linux-based so you cannot install Android apps like you can on the Nova3 Color. When it comes to color content, this is a fairly big limitation. Being able to use apps for color content is a lot easier than trying to find color content in ebook formats, especially when most newer comics have DRM and cannot be downloaded to use on a device like a Pocketbook. I was able to download a few DRM-free CBZ files to test, but those are few and far between.
While you can't install Android apps, there are a few other apps that can be installed, such as this pbimageviewer and perhaps KOReader for some added features the default reading app lacks, although I'm not sure if the latter works well on Pocketbook's color models.
Pocketbook InkPad Color Specs
7.8-inch E Ink Kaleido Plus screen.
1404 x 1872 resolution (300ppi for black and white/100ppi for color).
Capacitive touchscreen.
Frontlight with cool color only.
Linux-based operating system.
1GHz dual-core processor.
16GB storage space.
1GB RAM.
MicroSD card slot supports cards up to 32GB.
Wi-Fi.
Bluetooth.
USB-C port.
Rotation sensor.
2900mAh battery.
Supported formats: EPUB, PDF, CBR, CBZ, TXT, FB2, HTML, DJVU, RTF, DOC, plus others.
Dimensions: 195 x 136.5 x 8mm.
Weight: 225 grams.
Sells on Amazon with a list price of $329.