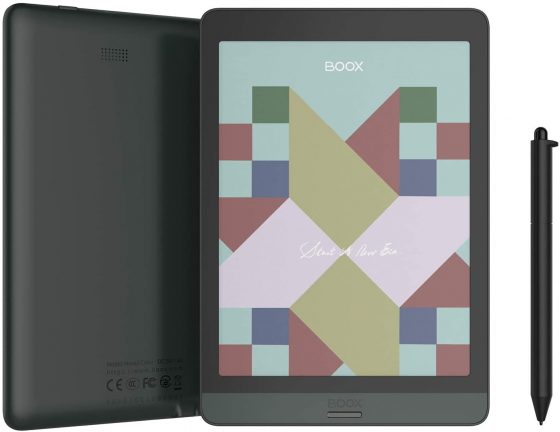 Onyx has released a new ereader with a 7.8-inch color E Ink screen called the Boox Nova3 Color.
Basically it's exactly the same as the regular Nova3 except this new version has a color E Ink screen instead of a regular black and white screen, and the color models only have a cool-colored frontlight, no warm frontlight.
Aside from that the specs are identical. It has an octa-core CPU, 3GB of RAM, 32GB of internal storage, USB-C, dual band WiFi, Bluetooth 5.0, and a Wacom touchscreen with stylus, and like other Boox ereaders it runs Android 10 and is open to install Android apps.
They are using the latest version of E Ink's Kaleido screen so colors have improved over the earlier Poke2 Color, but the resolution remains the same with 300ppi for black and white content and 100ppi for color. See my color E Ink comparison for a closer look.
With the release of the Nova3 Onyx is also releasing a new software update, version 3.1. They added more customizable options, more gestures, screen recording, and they added new sharing options to easily transfer content. They also improved the ePub engine on the built-in Neo Reader app.
The Nova3 Color is now available to purchase on Amazon for $419 with free shipping. It's also available directly from Onyx's website if you don't mind their unfriendly return policy.
Boox Nova3 Color Unveiling