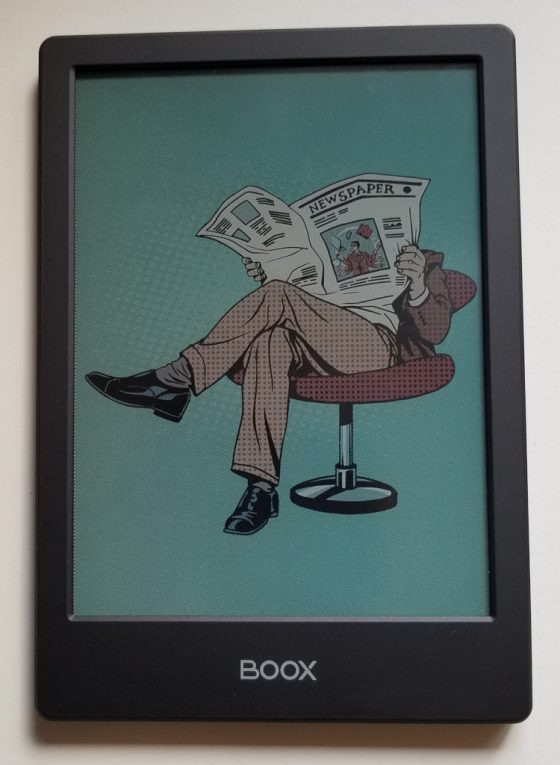 Review Date: August 2020 – Review unit purchased from Amazon
Overview
The Poke2 Color is among the first few devices to use E Ink's new color screen technology, called Kaleido, that's designed specifically for ereaders. It's nice to finally see some color E Ink ereaders getting released—it's the most innovation we've seen from E Ink in basically forever.
Onyx also sells a Poke2 with a regular black and white E Ink screen, but it has some other differences as well.
Frankly I don't understand why Onyx calls the device the Poke2 Color when it has a different screen, a different design, and a different frontlight than the regular Poke2—using the same name is confusing.
The software and hardware components are mostly the same, but that can be said about Onyx's larger devices as well. Onyx is best known for their large-screen ereaders, like the 10.3-inch Onyx Boox Note2 and the 13.3-inch Boox Max3, both of which are great for reading PDFs. There's also a 7.8-inch Onyx Nova2 that's really nice, but expensive.
The Poke2 Color is the first 6-inch Onyx device that I've reviewed in a long time, since they upgraded to the newer Android versions. There are a few differences with the software on the Poke models that I wasn't expecting, but nothing major.
Hardware
The Poke2 Color features a 6-inch E Ink Kaleido screen with a resolution of 1448 x 1072. Black and white content has a resolution of 300 ppi, but because of the way the color filter works color content has a resolution of 100 ppi.
I won't go into great detail about the color screen since I already covered that in the Color E Ink Review, but what it comes down to is the color filter makes the screen appear darker and text has less contrast than regular E Ink screens. The filter layer is slightly visible as a grid over the text, which creates a screen door effect.
The screen supports 4096 colors so it's not going to be nearly as vibrant or accurate as LCD screens, but it has kind of an old print quality look that's rather nice, and it's definitely a major improvement over having all images and covers in black and white.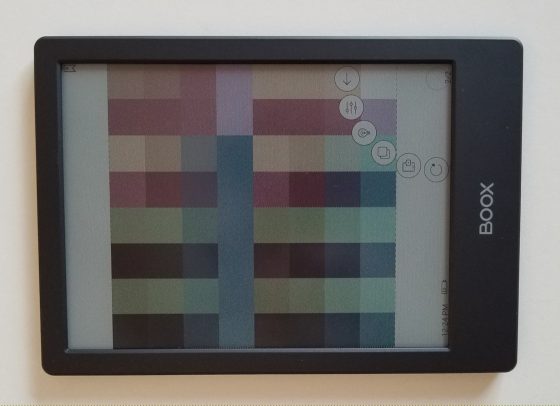 The Poke2 Color is very small and lightweight. It only weighs 150 grams, and feels a lot smaller than the Kindle Paperwhite, despite both having the same size screen.
Even though the price of the Poke2 Color is really high, the design is fairly basic. It feels more like a mid-level ebook reader than something with a premium price tag. It doesn't have a flush front screen, it's not waterproof, the only button is a power button, and it uses the older micro USB connector.
The most inexplicable thing to me is the fact that the Poke2 Color lacks a warm frontlight option—it only has a cool frontlight. All of Onyx's other frontlit models offer both, including the regular Poke2. They're skimping on features with a $300 6-inch ereader. It makes no sense.
Like Onyx's larger models, it supports USB OTG for connecting keyboards, external storage and the like. It also has Bluetooth for connecting headphones, speakers, and keyboards.
It has an octa-core CPU so it's fairly zippy for an E Ink device, but you do notice a bit of a slowdown at times having less RAM compared to Onyx's larger models.
It supports audio files and text-to-speech but since it doesn't have a speaker you have to connect speakers or headphones with Bluetooth or OTG.
Software
Like Onyx's other devices, the Poke2 Color runs a heavily-customized version of Android 9.0 and is open to install apps. Google Play can be enabled in the settings menu, but I never like having Google Play on E Ink devices with its endless updates and notifications so I don't mess with it.
Onyx's included appstore has a bunch of popular reading apps, news apps, and other useful tools so it's easier to just download them from there. The Kindle app works quite well thanks to Onyx's optimization settings for 3rd party apps.
The interface is slightly different on the Poke2 than I'm used to on the Nova2 and Note2. The homescreen tabs are at the bottom of the screen instead of along the side (which I like better), and the ebook store section is missing (also a plus since it lacks much English content). There are two options for the library view, Onyx's Library and OReader.
There's also two reading apps included instead of just the one, AlReader and Neo Reader. AlReader offers some different features, like the ability to use inverted mode for white text on a black background, which isn't available in Neo Reader. I find that the color filter grid is much less apparent with a dark background than a light background, so if you like inverted mode the screen door effect is less noticeable.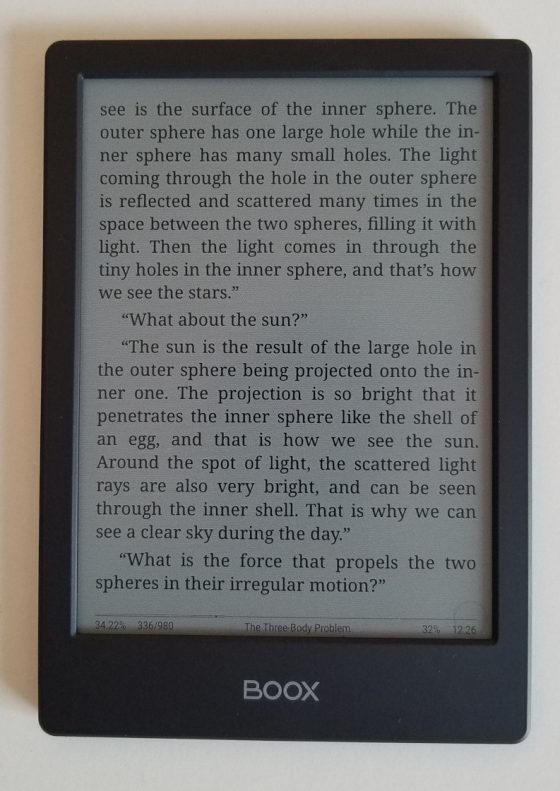 The user interface can be really confusing at times. A lot of functions and settings are just icons without descriptions that you have to learn what they do. There are a number of inconsistencies with the interface. Sometimes the Android quick settings menu will swipe down from the top, other times not. Without a hardware back button it can get really annoying. Using the onscreen NavBall is pretty much required to make navigation easier.
While complicated, the interface does offer a ton of customizable settings. If you don't like something there's a good chance there's a setting to change it somewhere. It just takes some time to learn how everything works.
Onyx Boox Poke2 Color Review
Pros
Open Android 9 OS with the ability to install apps makes much better use of the color screen than being limited to common book formats only like on the PocketBook Color.
Small and lightweight design makes it highly portable and comfortable to hold.
Color E Ink!
Cons
The added color is nice but it comes at the price of a darker screen with less contrast and clarity for regular text.
No buttons, no warm frontlight, old USB port, not waterproof.
Expensive.
Verdict
It's pretty cool to have a color screen on an ebook reader, and I like how small and lightweight the Poke2 Color is, but because of the visible color filter, I'd still rather use an ereader with a regular E Ink screen to read ebooks. The Poke2 Color is nice for color content, and if you don't mind sacrificing a bit of screen clarity when it comes to regular text then it might be worth considering.
If you do decide to get an ereader with a color E Ink screen, the Poke2 Color is the best option at this point. Being able to install apps is a big advantage when it comes to color content.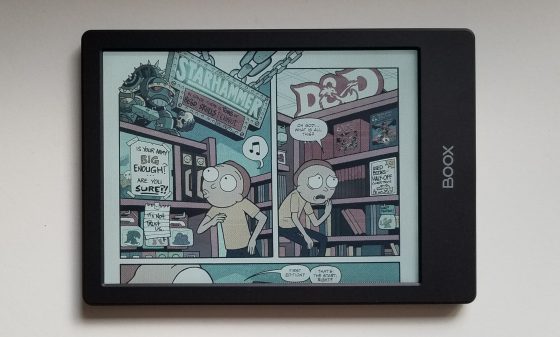 Onyx Poke2 Color Specs
6-inch E Ink Kaleido screen.
300 dpi black and white; 100 dpi color.
Supports 4096 colors.
Capacitive touchscreen (2-point).
Frontlight with cool color (no warm).
Android 9.0 operating system.
Qualcomm 2.0GHz octa-core processor.
32GB storage space.
2GB RAM.
2.4GHz + 5GHz Wi-Fi.
Bluetooth 4.1.
Micro USB port with OTG support.
1500mAh Li-Polymer battery.
Supported formats: EPUB, PDF, MOBI, TXT, FB2, HTML, DJVU, RTF, DOC, CHM, plus more via apps.
Dimensions: 153 x 107 x 6.8mm.
Weight: 150 grams.
Onyx Poke2 Color Video Review