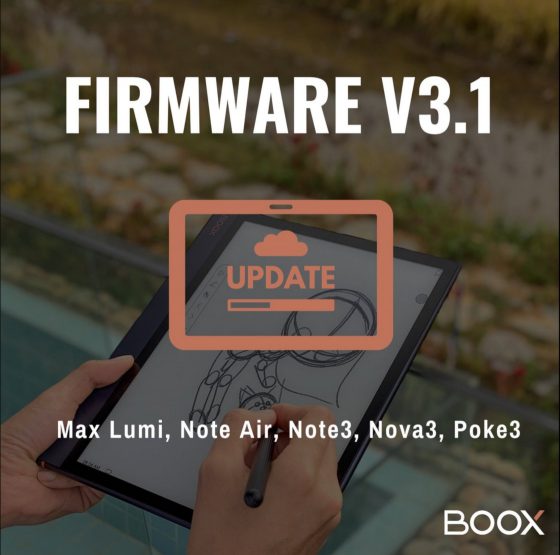 Onyx has released a new software update for their current lineup of Boox devices that adds some new features and sharing options.
The new firmware version is 3.1 and it's being rolled out to Onyx's latest models, which includes the Max Lumi, the Note Air and Note3, the Nova3, and the Poke3. Onyx says older devices will be getting the 3.1 update at a later time.
Onyx demoed some of the new 3.1 software features in their unveiling video for the new Nova3 Color that was just released.
Here's a list of the main changes with the 3.1 update:
New screen recording feature can record up to 2 hours.
Wirelessly share notes, pictures, and files with phones and tablets.
Customizable side gestures added to adjust things like frontlight level, volume, and contrast.
More contrast controls added.
New sorting options in App Drawer.
Long-press words in default dictionary app to look up its definition.
NeoReader improvements—show original ePub styles, add links to documents, share annotations via email.
More shapes, lines, and border styles added to Notes App, along with the ability to record audio notes.
If you have one of Onyx's newer models you can get the 3.1 update by going to Settings > Firmware Update > Check for Updates. You can also check the firmware downloads section of Onyx's support website to manually update (as of this writing they haven't added links for 3.1 yet).