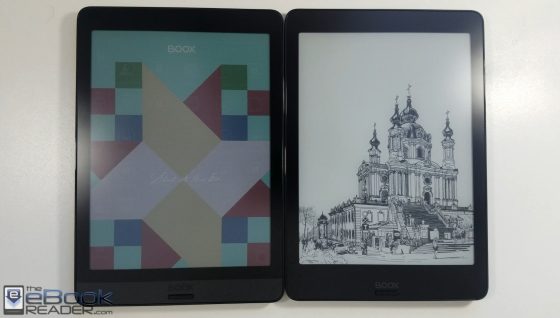 Here's a comparison review for those that are wondering how the color E Ink screen on the new Onyx Nova3 Color compares to the black and white E Ink screen on the regular Nova3.
The video comparison is between the Nova3 Color and the Nova2, but the regular Nova3 has the same exact screen as the Nova2. In fact all the black and white Nova models have the same 300ppi E Ink Carta screen.
It might surprise some of you to find out the Nova Color has a black and white screen as well; the color comes from a color filter layer that is applied over the top of a regular E Ink screen, so battery life and performance is not affected by having a color display.
The addition of the color layer is the one main difference between Onyx's color Nova and the regular one. The regular Nova also adds a warm frontlight so you can adjust the color temperature of the light—so far all color ereaders only have a regular frontlight, probably because the color is negatively affected by orange LEDS.
So what it all basically comes down to is a choice between color and better contrast. As noted in the color E Ink comparison review, text contrast with color E Ink isn't as good as regular E Ink because of the added filter layer—you can actually see the gird of dots if you look closely. Because of this the white background is noticeably darker on color screens, and there's more of a gray tone, especially with the frontlight turned off.
Another difference that I've noticed with these color E Ink screens is reflections are slightly more visible than with regular E Ink screens so there's a bit more glare.
Color E Ink also has more problems with ghosting. It's particularly noticeable on the Nova3 Color because the screen doesn't fully refresh as often as other color ereaders like the Pocketbook InkPad Color. You can trigger a manual refresh at any time, but Onyx still has some work to do in that area.
The one thing I really don't understand about the Nova3 Color is the high price. At $419 it's $80 more expensive than the regular Nova3, which was already the most expensive 7.8-inch ereader on the market. Now Onyx wants $80 more just for adding a color filter layer? All the other features and components are exactly the same, minus a warm frontlight, so the price increase seems kind of excessive.
Video: Nova3 Color vs Nova2 Screen Comparison