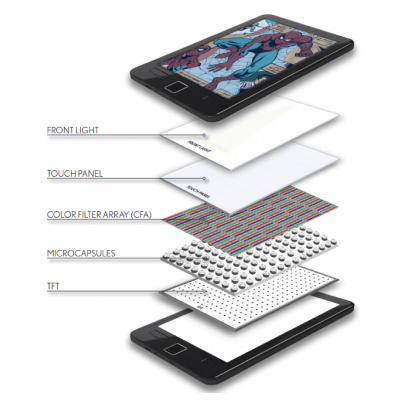 Ever since I started posting reviews of ereaders with color E Ink screens, including the latest Tab Ultra C with a Kaleido 3 screen, there have been a lot of people asking questions about how color E Ink screens are different from regular black and white E Ink screens.
People often ask if battery life is worse with color E Ink, and they want to know if there's any durability difference with color screens, among a number of other things.
The fact is ereaders that have E Ink Kaleido screens use the exact same display as standard black and white ereaders so there are no differences at all when it comes to the actual screen.
I know, it's kind of confusing, but Kaleido screens are really just regular black and white E Ink Carta screens with a passive color filter applied over the top of the screen. The color filter does degrade the clarity of the screen somewhat, and it makes the screen look darker than regular ereaders so you tend to use the frontlight more, but underneath the color filter it's still the same screen.
Information about all this can be found on the E Ink's website. The picture at the top of this post comes directly from there, and here's a quote from E Ink's Kaleido page:
"An E Ink Kaleido™ Module is comprised of a TFT backplane, Ink layer, Color Filter layer and Protective Sheet.

E Ink Kaleido™ utilizes a new printed Color Filter Array (CFA) technology in conjunction with E Ink's second generation Carta ink, which is faster and brighter than previous generations."
That comes from the page for first gen Kaleido screens, but newer Kaleido 3 screens work the same way. They've improved the color filter array on newer Kaleido screens, but they're still using a regular E Ink screen with black and white pixels.
E Ink does offer a type of E Ink screen called Gallery 3 with actual colored pixels that provide better color accuracy, but the refresh rate is still a lot slower than regular E Ink screens so they aren't being used on ereaders yet, except by one company from China that doesn't mind charging exorbitant prices for half-finished products with major refreshing and ghosting issues.
Until they can improve the refresh rate of Gallery 3 screens, most color ereaders are going to continue to use Kaleido screens with a color filter layer instead of colored pixels.