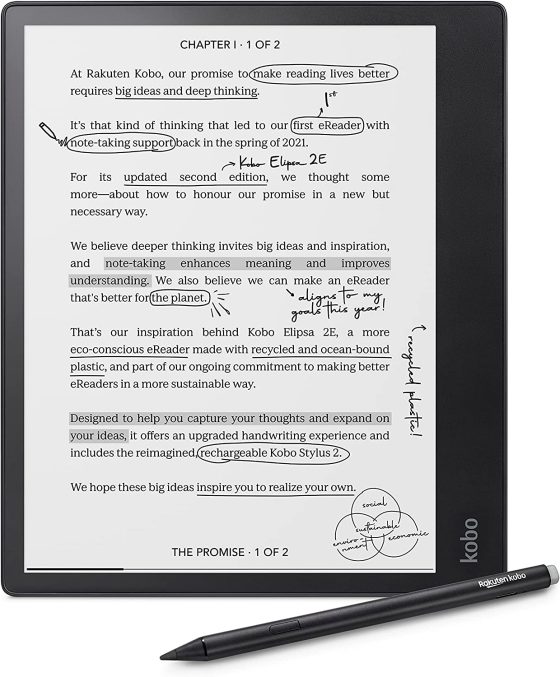 Review Date: May 2023 – Review unit purchased from Walmart
Overview
Kobo released the Kobo Elipsa 2E on April 19th, 2023. As the name implies, it's Kobo's second generation Elipsa model, and it's also partially made from recycled plastic (that's what the "E" stands for).
Kobo didn't change much with the 2E model. Mostly they just added a warm frontlight and added some texture to the power button and on the back of the device to improve grip. It's also using a different processor now, and it's a bit faster to turn pages and open menus and such compared to the first gen Elipsa.
Kobo also changed the design of the stylus. They added an eraser to the end and it has a different type of tip now. The tip is quite a bit larger than other styli, but it seems to work and feel about the same as the first gen stylus. They also made it so you can charge the stylus via USB instead of having to replace the battery.
The Kobo Elipsa 2E is still using a 10.3-inch E Ink screen with 227 ppi so there's been no change there; they just added a warm frontlight so you can adjust the color temperature.
It still has 32GB of storage space, a USB-C port, Bluetooth for streaming audiobooks, and dual-band WiFi. It's not waterproof like smaller Kobo ereaders.
While Kobo changed very little with the hardware, they did add some new software features to the Notes app. Basic notebooks have more template choices now, they added folder support for organizing notebooks, you can search handwritten notes now, and they added a lasso tool for editing. Notes can also be backed up to the Kobo Cloud now, and they're supposed to be adding support for Google Drive soon (Dropbox is also supported for wirelessly transferring files and documents).
The Kobo Elipsa 2E sells for $399 USD, the same price as the first generation model, from Kobo's website and from authorized retailers like Walmart and Amazon. However, the 2E does not include a case like the original so that has to be purchased separately now, and Kobo's has gone a little crazy on the price ($70).
Kobo Elipsa 2E Review
Pros
Despite not having a 300 ppi screen like the Kindle Scribe, the 10.3-inch E Ink screen on the Kobo Elipsa 2E still looks great, and the addition of an evenly-lit warm frontlight is a plus.
They finally updated the Notes app after nearly two years to add some new features, and now you can easily access Notebooks from your Kobo account.
You can add handwritten notes directly onto ebooks, unlike the Kindle Scribe.
Cons
Still no easy way to export notes and highlights from ebooks.
PDFs still lack basic features like contrast adjustment and dictionary support, and there still aren't any adjustable settings for the stylus like with Notebooks.
I still feel like Wacom styluses have a better writing feel.
Minor improvements—they pretty much just added a warm frontlight to the existing 2-year-old Elipsa (they should've included a warm frontlight to begin with).
Verdict
It's hard to get excited about the Kobo Elipsa 2E considering there were so few hardware upgrades, especially when Amazon now sells the Kindle Scribe with a higher resolution screen for substantially less than the 2E, but Kobo still has a number of software advantages over Kindles.
Overall, the Kobo Elipsa 2E is a solid mid-level 10″ eNote. Other devices have some hardware advantages but Kobo's software, especially when it comes to ebooks, helps make it one of the best options for a large-screen E Ink device on the market. I still think they need to improve the PDF features but at least they did add a zoom lock a while back.
Kobo Elipsa 2E Video Review
More Kobo Elipsa Reviews
Kobo Elipsa 1 Review
Kobo Elipsa PDF Files Review
Kobo Elipsa User Guides and Tips
Kobo Software Features List
Kobo Elipsa 2E Specs
10.3-inch E Ink Carta 1200 screen.
1872 x 1404 resolution (227ppi).
Stylus included.
Capacitive touchscreen (2-point).
Frontlight with warm and cool temperature control.
2GHZ processor.
32GB storage space.
WiFi 802.11 ac/b/g/n.
Bluetooth.
USB-C port.
Supported formats: EPUB, EPUB3, FlePub, PDF, MOBI, JPEG, GIF, PNG, BMP, TIFF, TXT, HTML, RTF, CBZ, CBR.
Dimensions: 193 x 227 x 7.5mm.
Weight: 390 grams.
Sells for $399 USD on Amazon.