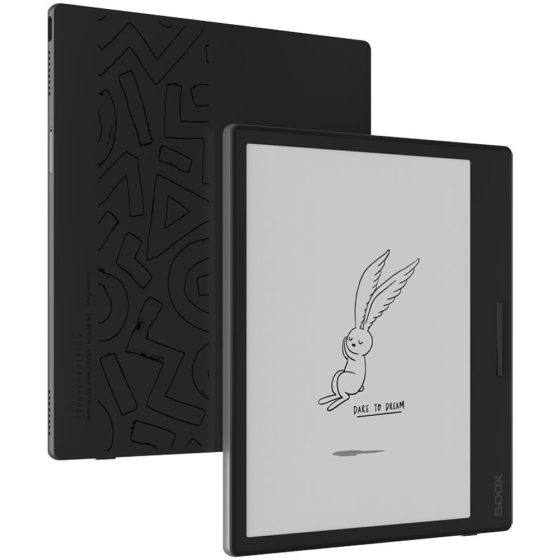 Onyx has officially announced the release of a new ebook reader called the Boox Page with a 7-inch E Ink Carta 1200 screen and page-turn buttons.
It's basically a more expensive version of the Leaf2 that Onyx released late last year. In fact the dimensions are identical.
The main difference is the Boox Page has an octa-core CPU instead of a quad-core CPU, and it has 3GB of RAM instead of 2GB, and the battery is 15% larger at 2300mAh. Other than that they appear to be exactly the same, except the Page weighs 10 grams more with the slightly larger battery.
The Boox Page runs Android 11 and is open to installing apps. It has 32GB of internal storage, and there's a microSD card slot. It has a frontlight with adjustable color temperature, but it does not have a Wacom touchscreen for notetaking like Onyx's larger models.
The Page also has a USB-C port, a built-in speaker and microphone, it has a rotation sensor, and of course it has WiFi and Bluetooth.
The Boox Page sells for $249, so that's $50 more than the Leaf2. That seems like a pretty big jump just for a slight performance upgrade.
Onyx still refuses to sell their smaller 6″ and 7″ models on Amazon for reasons that are completely nonsensical, so there's no use waiting for it to show up on their Amazon store. But one of their resellers has the Page listed on the B&H website for pre-order. You can also order the Page directly from Onyx if you're sure you don't want to return it.
Here's another one of Onyx's strange unboxing videos. I always thought unboxing videos were weird, but they're especially weird when companies upload unboxing videos of their own products. Gotta show off that box and warranty slip! Oh, and don't forget the USB cable. You gotta show that!
BOOX Page Official Unboxing