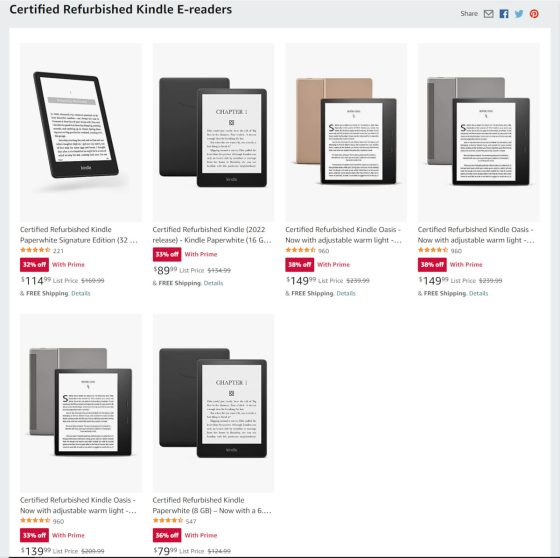 Amazon has some more Prime-exclusive deals on Kindle ereaders as they lead up to Prime Day on July 11th and 12th.
They have the Kindle Paperwhite and Kindle Oasis on sale, and the Oasis is up to $90 off, but they are certified refurbished units instead of brand new ones.
Here's the list of certified refurbished Kindle deals at Amazon:
Kindle Paperwhite 8GB – $79.99 ($45 off)
Kindle Paperwhite 16GB – $89.99 ($45 off)
Kindle Paperwhite SE – $114.99 ($55 off)
Kindle Oasis 8GB – $139.99 ($70 off)
Kindle Oasis 32GB – $149.99 ($90 off)
Frankly I don't think the deals on Kindle Paperwhite are all that great, especially considering they were just selling the kids bundle for $89 brand new last week, but refurbished units are a good way to save some cash if you don't want to wait until Prime Day to get them brand new for probably like $10-$20 more.
The prices on the Kindle Oasis are pretty low, but they should be considering the fact the Kindle Oasis was released back in 2019. Last year they had the 8GB Kindle Oasis on sale for $174.99 for Prime Day, and the 32GB version was $194.99, and both were new, not refurbished.
Buying certified refurbished Kindles from Amazon is usually a pretty safe bet. They come with the same warranty as new Kindles, and they are usually in like-new condition.
A couple of downsides with refurbished Kindles is the fact that you can't use a trade-in to get the price lower like with new Kindles, and they don't have the option to add 3 months of Kindle Unlimited for free like new Kindles, but Amazon has a 3-month free Kindle Unlimited offer for Prime members ongoing right now.
Amazon has a list of certified refurbished Fire tablets on sale as well. The Fire 7 can be had for as low as $34.99 and the Fire HD 10 Plus is $90 off the list price.