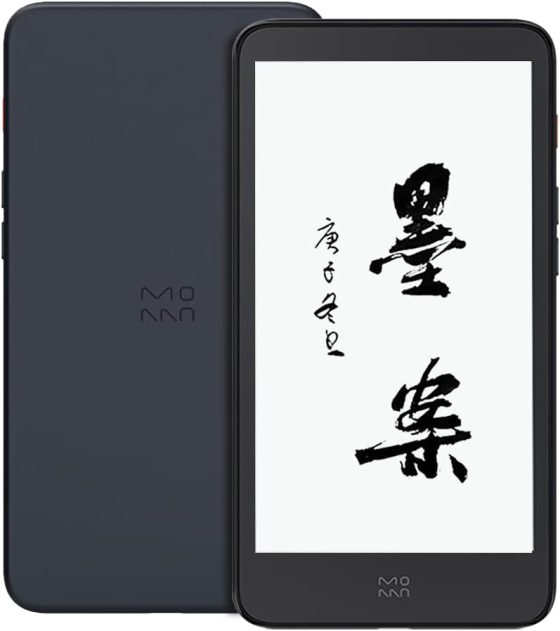 I recently came across a listing for the Moaan InkPalm 5 on Amazon. It's being sold by a Chinese retailer with no feedback history so I normally wouldn't mention it, but it's being shipped by Amazon so it looks like a pretty safe bet.
The InkPalm 5 was released a couple years ago in China, and it's been available to order from websites like AliExpress for some time now, but this is the first time I've seen it available to order from a US website like Amazon.
The InkPalm 5 has some unique characteristics, like the fact that it's small and pocketable like a phone, and it also runs Android so that opens up the possibility to install apps, but it's an old version of Android (8.1).
The InkPalm 5 has a 5.2-inch E Ink screen with a resolution of 1280 x 720. That works out to 284 ppi, and it's a narrower aspect ratio than a typical E Ink screen, more like a phone than an ereader.
The device only weighs 115 grams, and it measures 143.5 x 76.6 x 6.9 mm. By comparison, the current 6-inch Kindle weighs 158 grams and the dimensions are 157.8 x 108.6 x 8.0 mm, so there's a considerable size difference.
The InkPalm 5 also has a frontlight with adjustable color temperature. It has WiFi and Bluetooth for connectivity, with 1GB of RAM and 32GB of storage space. The battery is listed at 1400mAh.
There are two color choices available, a light green color and what looks like black but is listed as "grey" (maybe dark grey). The price is listed at $159 with free shipping, but there's a coupon for $20 off.
I've been a big fan of smaller ereaders for a long time since the PRS-350 and Kobo Mini, but nobody wants to make anything smaller than 6-inches these days. There are more options out there but they usually have to be ordered directly from China.