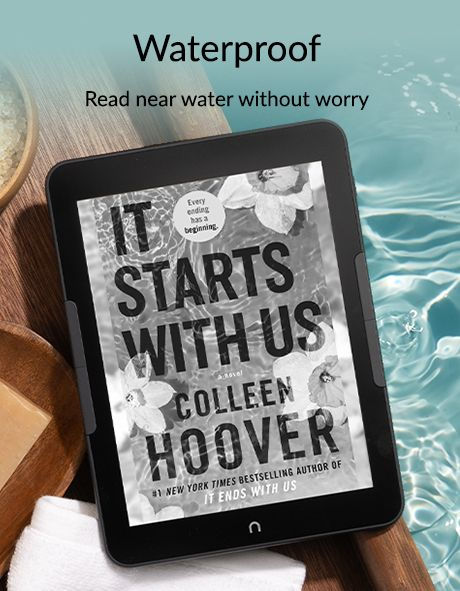 Barnes and Noble has officially unveiled the new 7.8-inch Nook GlowLight 4 Plus that first showed up back in May on some in-store signs.
B&N has the Nook GlowLight 4 Plus available to pre-order on their website for $199 with free shipping, but it won't be available for another couple of months. The release date is September 6th.
I wonder why they announced it so far in advance? It's not like people are lining up to buy new Nooks; it almost certainly won't be sold out at launch so what's the point of pre-ordering? B&N is such an odd company sometimes.
Nonetheless, the new Nook is essentially a second generation version of the Nook GlowLight Plus that was released back in 2019, B&N's first 7.8-inch Nook.
This new version has a flush-front screen, physical page-turn buttons on each side of the screen, and it's waterproof. They also added support for B&N's audiobooks.
It's most likely using an E Ink Carta 1200 screen with improved contrast, but B&N is never specific about the details when it comes to Nooks. They don't say what CPU it's using or what version of Android the software is based on. They don't even list the weight of the device anywhere on the product page; there's one low resolution image showing the dimensions at that's it.
Here's the list of specs that B&N is willing to provide:
Nook GlowLight 4 Plus Known Specs
7.8″ E Ink display with 300 ppi.
Frontlight with adjustable color temperature.
32GB of storage space.
USB-C port.
Wi-Fi (802.11 b/g/n).
Waterproof: IPx7 rated.
Buttons: Touch-sensor home button; physical page-turning buttons, plus swiping functionality.
Audio: stream or download audiobooks to listen to via Bluetooth or 3.5mm headphone jack.
Battery: Read for up to 3 weeks on a single charge; supports 9 hours of continuous audio playback over Bluetooth.
Formats: EPUB, PDF.
Built-in anti-glare screen protector.
Dimensions: 7.8″ x 5.8″ x .31″.
1-year limited warranty.