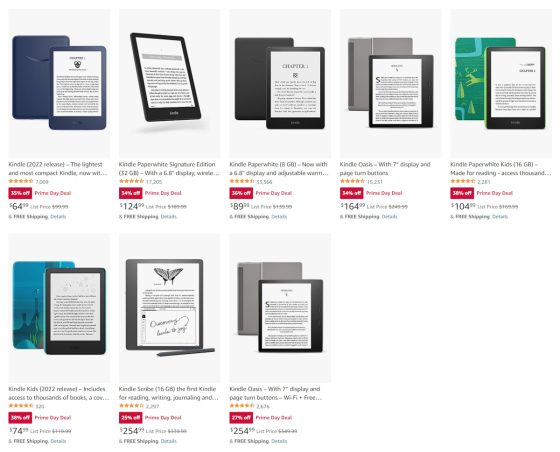 Prime Day is one of the best times of year to buy Amazon products, especially Kindle ereaders, and this year is no exception, with some Kindle models hitting their lowest prices ever.
Not only are Kindles on sale, but so are Amazon's official Kindle covers, and Prime members can get also get Kindle Unlimited free for 3 months.
If you want to get in on the deals you can sign up for a free trial of Amazon Prime if you're not already a Prime member so there's really no reason not to take advantage of these deals.
The price of the Kindle Scribe is $30 lower than it's ever been. The new Kindle for 2022 is also at its lowest sale price yet, and the Kindle Oasis is $10 lower than Prime Day last year. The Kindle Paperwhite is $5 lower than last year as well, and the upgraded Signature Edition model is $10 lower.
Keep in mind you can also trade-in an old Kindle to get an additional 20% off Prime Day prices.
There's also this Audible Audiobooks Deal where you can get a 3 month Audible Premium Plus subscription for free.
See the Prime Day Deals page at Amazon for an updated list of deals.
Check this earlier post for a list of Kindle bundle deals. If you're going to get an Amazon cover you're better off just getting a bundle deal. For example, the Kindle Scribe Essentials bundle is only $30 more that the Scribe by itself, and the cover is on sale for $50 so the bundle is clearly the better deal, and the bundle also includes a wall charger.
Kindle Scribe Deals
Kindle Scribe 16GB – $254.99 ($85 off)
Kindle Scribe 32GB – $294.99 ($95 off)
Kindle Scribe 64GB – $319.99 ($100 off)
Kindle Scribe Accessories
Kindle Scribe Premium Pen – 15% off
Kindle Scribe Premium Pen – 10% off
Kindle Scribe Pen Replacement Tips – 20% off
Kindle Scribe Covers
Kindle Scribe Fabric Folio Cover – $49.99 ($10 off)
Kindle Scribe Leather Folio Cover – $65.99 ($15 off)
Kindle Scribe Brush Print Leather Folio Cover – $65.99 ($25 off)
Kindle Oasis Deals
Kindle Oasis 3 – $164.99 ($85 off) 8GB model
Kindle Oasis 3 – $184.99 ($95 off) 32GB model
Kindle Oasis 3 – $254.99 ($95 off) 32GB model with 4G LTE
Kindle Oasis Covers
Kindle Oasis Fabric Water-safe Covers – $29.99 ($10 off)
Kindle Oasis Leather Covers – $36.99 ($13 off)
Kindle Oasis Premium Leather Covers – $49.99 ($15 off)
Kindle Paperwhite Deals
Kindle Paperwhite 5 – $89.99 ($50 off)
Kindle Paperwhite Kids – $104.99 ($65 off)
Kindle Paperwhite Signature Edition – $124.99 ($65 off)
Kindle Paperwhite Covers
Kindle Paperwhite 5 Fabric Covers – $26.99 ($8 off)
Kindle Paperwhite 5 Leather Covers – $30.99 ($11 off)
Kindle Paperwhite 5 Cork Covers – $35.99 ($14 off)
Kindle 2022 Deals
Kindle – $64.99 ($35 off)
Kids Kindle – $74.99 ($45 off)
Kindle Covers
Kindle Fabric Covers – $23.99 ($6 off)
Other Kindle Deals
3 Months of Kindle Unlimited for free (existing subscribers excluded)
Get up to 40% off Kindle Unlimited subscription
Deals on Other Reading Devices
Kobo Sage – $239.99 ($20 off)
Kobo Libra 2 – $169.99 ($20 off)
Kobo Clara 2E – $119.99 ($20 off)
Onyx Tab Ultra – $479.99 ($80 off)
PocketBook InkPad 4 – $249.00 ($40 off)
PocketBook Era – $212.00 ($37 off)
PocketBook Touch HD 3 – $135.00 ($24 off)