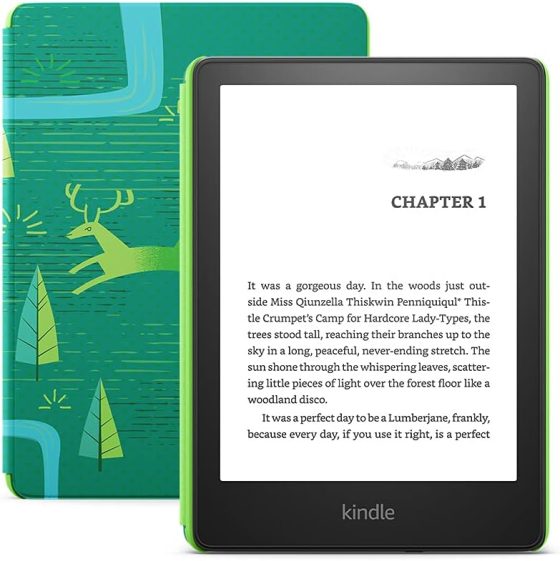 During the Prime Day madness, I noticed something about the Kindle Paperwhite Kids bundle that makes it not as good of a deal as it used to be, so I'm no longer going to be recommending it as a better deal than the regular Kindle Paperwhite.
When Amazon first released the Kindle Paperwhite 5 back in 2021, the base 8GB model with ads sold for $139 (and it still does), and the non-ad version is $159.
If you wanted an ad-free Kindle, the Kindle Paperwhite Kids bundle was clearly the better deal because it also sold for $159, and it included a cover and an upgraded 2-year warranty, and it was also ad-free by default.
Unfortunately that is no longer the case. Now the Kindle Paperwhite Kids bundle sells for $169 because they did away with the 8GB version, and it now has ads by default when you exit kids mode, so you'd have to pay an additional $20 to get rid of the sponsored screensavers.
Amazon added a new entry to the FAQ on the Paperwhite kids page that says the following:
5: Will my kid see Ads while using this device?

Kindle Kids is automatically set up for your kid to enjoy an ad-free experience. However if you exit Amazon Kids using a passcode, sponsored screensavers will be displayed on the device's lockscreen.
The page for the 8GB Kindle Paperwhite Kids bundle no longer exists so it doesn't look like they're going to be bringing it back. Basically Amazon found a convenient way to increase the price by $10, and now the kids Kindles have ads by default (but not when using kids mode), so they're no longer the great deal they once were.
Amazon did this same thing with the Kids Kindle for the 2022 model (offering ads by default) so I guess it shouldn't be surprising.
I wonder if Amazon is going to stop selling the 8GB version of the regular Kindle Paperwhite at some point too. They came out with the 16GB version last year for $10 more, but most people don't realize that it would be virtually impossible to read 16GB worth of ebooks before a Kindle's battery wears out. 16GB is really only useful for audiobooks or if you have a massive comics collection that you insist on having downloaded at all times.
Either way, the Kindle Paperwhite Kids bundle is no longer as good of a deal as it used to be now that it costs $30 more to get an ad-free version.