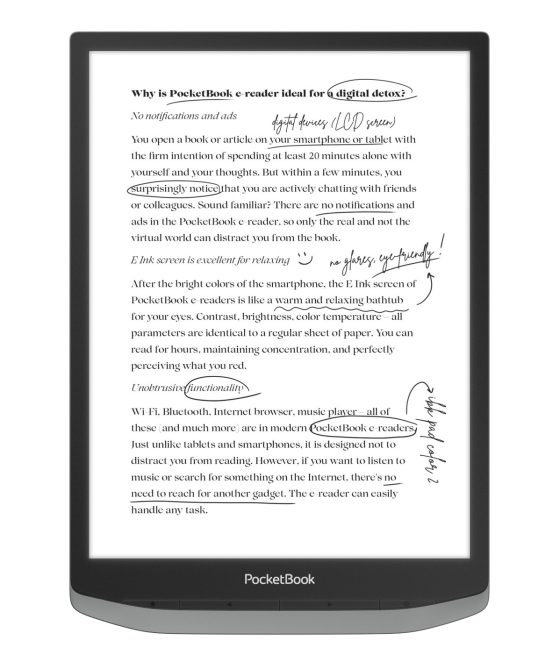 PocketBook has been making some questionable decisions lately when it comes to releasing new products, and their new 10.3-inch InkPad X Pro is the latest head-scratcher.
First off, the press release says the PocketBook InkPad X Pro is getting released "this spring". Now that's a seriously confusing statement. Have they relocated their headquarters to the southern hemisphere? Because that's the only way that makes any sense unless they're announcing it 7 months in advance.
The confusion doesn't end there. Apparently they're switching the OS to Android from their custom Linux software, which might sound like a good thing at first, but the device is running Android 8.1. Yeah, Android 8.1, from 2017. And there's only 2GB of RAM.
It looks like they're using the exact same design from the original InkPad X that was released in 2019. The new model uses the same screen as the previous version, which has its pros and cons. It's one of the only 10.3-inch devices that uses a Mobius screen from E Ink so it should be more durable than regular glass-backed E Ink screens, and lighter, but the resolution is still 227 ppi instead of 300 ppi like the newer screen on the Kindle Scribe.
It has a USB-C port like the previous model, and the same 32GB of storage space, with WiFi, Bluetooth and audio support built-in. It also has a frontlight with adjustable color temperature. The CPU has been upgraded to a quad-core 1.8GHz chip so that's a plus.
Aside from changing the OS to Android, the other biggest change is the addition of a Wacom touchscreen for notetaking. It also comes with a stylus and a protective cover.
It looks like it still has an indented screen in the pictures, which is pretty unusual for an eNote, so is having page buttons and a symetrical design. At 350 grams, it's 50 grams heavier than the original InkPad X, but I think that's because it uses a larger battery (3200 mAh instead of 2000) since Android is more power hungry.
According to PocketBook, the device supports installing 3rd-party apps and it supports Google services so they Play Store should work. However, it's hard to imagine Android apps running very smoothly with only 2GB of RAM and probably no app optimization settings like Onyx's devices offer. Either way, opting to use Android 8.1 is a seriously odd choice in 2023, especially if they keep it on the market for 4 years like the previous model.
For more details, check the PocketBook InkPad X Pro product page on PocketBook's website. I'd expect it to turn up for sale on PocketBook's Amazon store at some point, depending on when "this spring" comes around. They're still selling the original InkPad X for $449.